Tangy Green Zebra Gazpacho
.    2 pounds Green Zebra tomatoes, cored and coarsely chopped, plus 1 Green Zebra tomato cut into small wedges for garnish
.    1 seedless cucumber, unpeeled and coarsely chopped, plus finely diced unpeeled cucumber for garnish
.    1 medium sweet onion, coarsely chopped
.    1 Hass avocado—halved, pitted and peeled
.    1 small jalapeño, stemmed and seeded
.    2 garlic cloves
.    2 tablespoons freshly squeezed lime juice
.    2 tablespoons mint leaves, plus more for garnish
.    2 tablespoons cilantro leaves
.    1/4 cup extra-virgin olive oil, plus more for drizzling
Salt and freshly ground pepper
In a blender, combine half each of the coarsely chopped green tomatoes, cucumber and onion with the avocado, jalapeño, garlic, lime juice and 1 cup of cold water and puree until smooth. Transfer the puree to a large bowl.
Add the remaining coarsely chopped green tomatoes, cucumber and onion to the blender along with the 2 tablespoons of mint, the cilantro and 1/4 cup of olive oil and pulse to a chunky puree. Add the puree to the bowl and stir well. Refrigerate the soup until well chilled, about 1 hour. Season the gazpacho with salt and pepper and ladle it into chilled bowls. Garnish the cold soup with the tomato wedges, diced cucumber, mint leaves and a drizzle of olive oil and serve.
MAKE AHEAD The green gazpacho can be stored in an airtight container and refrigerated overnight.
Rainier Cherry Salsa
Ingredients
2 tablespoons of avocado, canola or grapeseed oil
3 tablespoons red onion, ¼" dice
1 tablespoon jalapeno, about ½ medium, seeds removed ¼" dice
1 garlic clove, sliced thin
Kosher salt
Ground black pepper
2 cups pitted rainier cherries, about 1 lb, quartered
2 teaspoons demerara (raw) sugar
Zest and juice of ½ lime
¼ cup chopped fresh cilantro
Instructions
In a medium sauce pan, over medium heat, add the oil, onion, jalapeno and garlic. Season with a good pinch of salt and pepper and let it come to a sizzle. You just want to soften it all up.
Add in the cherries and give it a little toss to mix it all together. Sprinkle over the sugar and let it cook for about 5 minutes, tossing occasionally. You want the cherries to soften up, but not brown.
Remove from heat and add the lime zest, juice and cilantro. Toss to combine and let it cool completely.
Store in an airtight container in the 'fridge.
Peach Lavender Jam
YIELD: 6 cups
ingredients:
2 tablespoons dried lavender flowers
1/2 cup boiling water
4 cups finely chopped peaches (from about 5 to 6 medium peaches, peeled)
2 tablespoons lemon juice
6 cups granulated sugar
1 pouch liquid fruit pectin
directions:
Place lavender flowers in a small bowl. Pour boiling water over flowers and steep for 20 minutes. Strain and discard flowers.
Prepare canner and wash/sterilize 6 half-pint mason (or equivalent) jars. Keep jars in hot (not boiling) water until ready to use. Warm lids in hot (not boiling) water to sterilize and soften seal.
Combine lavender liquid, peaches, lemon juice, and sugar in a very large stainless steel or enamel saucepan. Bring to a full boil over high heat and boil hard for 2 minutes, stirring constantly. Remove from heat and stir in pectin.
Ladle hot jam into jars, leaving 1/4-inch of headspace. Wipe jar rims and threads. Screw on lids and rings. Process in a boiling water bath for 10 minutes. Remove from water and let cool completely, 12 to 24 hours. Check seals. Any unsealed jars should be refrigerated and used within 3 weeks.
Raspberry Ice Cream
From David Lebovitz's The Perfect Scoop
▪   1 1/2 cups half-and-half
▪   1 cup sugar
▪   1 1/2 cups heavy cream
▪   4 large egg yolks
▪   1 1/2 cups strained raspberry puree
▪   1 tablespoon freshly squeezed lemon juice
To make raspberry puree:  Puree 6 cups of raspberries in a food processor, then press them through a mesh strainer with a flexible rubber spatula, or use a food mill.
Warm the half-and-half and sugar in a medium saucepan. Pour the cream into a large bowl and set a mesh strainer over the top.
In a separate medium bowl, whisk together the egg yolks. Slowly pour the warm milk into the egg yolks, whisking constantly, then scrape the warmed egg yolks back into the saucepan.
Stir the mixture constantly over medium heat with a heatproof spatula, scraping the bottom as you stir, until the mixture thickens and coats the spatula. Pour the custard through the strainer and stir it into the cream. Mix in the raspberry puree and lemon juice, then stir until cool over an ice bath.
Chill thoroughly in the refrigerator, but to preserve the fresh raspberry taste, churn the ice cream within 4 hours after making the mixture.
MAKES ABOUT 1 QUART
Blueberry Strawberry Pie
Ingredients:
Crust:
20 tbsp (283 grams) unsalted butter, chilled and cubed (use high fat butter like Plugra)
7 tablespoons (100 grams) heavy cream
3 tablespoons (40 grams)rendered lard (or use more butter)
3 3/4 cups (469 grams) all-purpose flour, plus additional for rolling the dough
1 tablespoons (12.5 grams) granulated sugar
1 1/4 teaspoons kosher salt
Filling:
8 cups blueberries and strawberries (mixed)
1 teaspoon fresh chopped thyme
freshly squeezed lemon juice of 1/2 lemon
1/2 cup (50 grams) granulated sugar
1/4 cup (57 grams) packed light brown sugar
1/4 teaspoon kosher salt
1 tablespoon (7 grams) creme de cassis
1 teaspoon vanilla extract
1 large egg white (28 grams), room temperature, lightly beaten (if using a traditional crust on top and not cutting out circles)
1 1/2 teaspoons Demerara or granulated sugar
1/4 cup (45 grams) cornstarch
Preparation:
For the crust:
Pre-chill a stand mixer beforehand. Once cold, place butter, cream and lard. Beat on low with a paddle attachment until smooth. In another bowl, thoroughly mix together flour, sugar and salt. Add about a third of the flour mixture to the butter mixture and beat on low until the mixture comes together like a fairly wet dough. Add the remaining flour and mix until the dough just begins to come together. Once that happens, turn the dough out on a floured surface and knead gently into a small ball. Divide the ball in half, wrap each half in plastic wrap and flatten into disks. Refrigerate for at least 2 hours or overnight (or up to 3 days).
For the filling:
In a large bowl, toss together blueberries, cut-up strawberries and thyme. Add lemon juice, sugars, salt, creme de cassis and vanilla extract. Set aside to macerate for about half an hour.
After the half hour passes, add the cornstarch and mix it until it completely dissolves. Set aside.
Assembling and Baking the Pie:
On a lightly floured surface, roll out one of the disks of dough to a 1/4-inch thickness and fold it in half. Then re-roll to a round about 12 inches in diameter and the thickness of about 2 quarters. This thickness will give you the layers of flakiness you so desire in your pie dough, particularly the bottom part. Transfer the dough to a Pyrex 9-inch pie pan (or a dark steel pie pan), and trim the edges so they are even with the rim of the pie pan. [Pyrex is particularly useful here as it allows you to see the doneness of the bottom crust due to its transparency.] Cover the dough with plastic wrap you used in chilling this disk, and place in the freezer for 1 hour.
When ready to bake, preheat the oven to 425F. Remove the pie pan from the freezer and line the dough with aluminum foil on top, delicately pressing it to form to the shape of the pan. Place the baking beads, dried beans, or uncooked rice (or lentils, etc.) on top of the foil. Bake for 30 minutes and allow to cool on a cooling rack afterward. After the pie cooled off, preheat the oven again to 350F.
While your shell is baking, roll out the second disk of dough. Using cookie cutters (I used the circle ones of various sizes) cut out a bunch of circles from the rolled out dough. Place on a baking rack and refrigerate until ready to decorate the top.
Pour the berry filling into the pre-baked pie shell. Place your pie dough circles on top of the pie, starting in the center and filling out to the outer sides. Make a pattern pleasing to your eye. I liked placing my circles slightly atop their neighbor circles to create some kind of a cohesion. I used tiny circles to fill in some gaps. When done with the top of the pie, sprinkle some Demerara sugar on top of the pie.
[If you prefer a traditional pie topping, you can, instead, roll out the pie shell and create a traditional pie crust topping. Be sure to slice a few vents on top to allow the pie to breathe. If you do make a traditional topping, then be sure to use the whipped egg white as glue for your pie crust top. Brush the edges of the pre-baked shell with the egg white before placing your rolled out raw shell on top.]
Bake for 1 hour, on an aluminum foil covered rimmed 11 x 17 inch baking sheet on the center rack until the pie is deeply golden and you can see the thick juices bubbling through the openings.
Let cool before serving as it allows the starch to set a bit and give the pie some structure. Otherwise, your pie will ooze and fall apart when you are trying to serve it. While it's the pie's taste we are all most concerned with, it is a great feeling of accomplishment to be able to serve the pie to your guests where the slice has great structure and holds its shape.
Nasturtium Soup with Braised Pistachios
3 Tbsp extra-virgin olive oil
2 medium or 3 small onions, thinly sliced
2 small bunches scallions, thinly sliced, including the greens
4 sprigs fresh thyme
2 bay leaves
12 black peppercorns
3/4 cup dry white wine or vermouth
10 cups vegetable stock
4 cups fresh nasturtium leaves, loosely packed
1/4 cup heavy cream
Sea salt and freshly ground black pepper
Braised pistachios (see recipe below)
Nasturtium flowers to garnish (optional)
1. Warm the olive oil in a large pot over medium heat. Add the onions and cook, stirring occasionally, until they become translucent, about 7 minutes. Add the scallions, thyme, bay leaves and peppercorns, and stir to combine. Cook 2 to 3 more minutes.
2. Increase the heat to medium high and add the white wine, using it to deglaze the pan, loosening any bits that have browned and stuck to the bottom with a wooden spoon.  Continue to cook until the white wine reduces by about one half. Add the vegetable stock and reduce the volume by half again. You should have approximately 6 cups.
3. Remove the soup from the heat and chill until completely cold. Once the base is cold, add the nasturtium leaves in batches, using a blender or food processor to purée the leaves into the base. Strain through a fine-mesh sieve, add the cream, and season to taste with salt and pepper.
4. To serve, bring the soup to a gentle simmer over low heat. Season to taste with additional salt and pepper, and serve immediately, garnished with braised pistachios and nasturtium flowers, if you'd like.
Makes 6 servings
Braised Pistachios
Braising pistachios in vegetable stock flavored with generous amounts of onion, garlic, herbs and cardamom adds unusually delicious flavor and pleasing texture—not unlike that of a fresh bean—to the silky smooth soup.
1. Warm the olive oil in a sauté pan over medium heat and add the onion. Cook, stirring occasionally, until the onion is translucent, about 5 minutes. Add the garlic and sauté another 30 seconds. Add the bay leaves, thyme and cardamom, and sauté 1 minute longer.
2. Deglaze the pan with the white wine and cook until nearly all of the liquid is gone and the onions are dry. Add the pistachios and cook, stirring, for a few minutes, to lightly toast and incorporate with the onions. Cover with the vegetable stock and bring to a gentle boil. Reduce the heat to low and continue to simmer slowly until the stock is nearly gone and the pistachios appear dry. Stir the mixture occasionally to prevent the onions and pistachios from sticking, and to keep them moistened with stock. Season to taste with salt and pepper. The nuts can be made up to three days in advance of serving them and stored in an airtight container in the refrigerator.
Makes 2 cups
Strawberry Basil Ice Pops
1 cup chopped strawberries
2 tbl sugar
1 tbl chopped basil
1 1/4 cup coconut water
1/4 cup plain yogurt
to a bowl, add chopped strawberries, basil and sugar. let them marinate at least an hour but over night is even better.
the next day place all of the ingredients in a blender, blend to you reach your desired consistency.
pour in pop molds and freeze.
makes about 8 ice pops depending on your mold size.
Grilled Squid with Cumin
Ingredients
4 medium-sized squid weighing about 150g each, or 8 smaller ones, cleaned
A little olive oil, for grilling and drizzling
For the spice mix
2 cloves of garlic, peeled and crushed
1/2tsp paprika
2tsp ground cumin
2tsp sea salt
Method
1. Mix all of the ingredients together for the spice mix, then coat the squid in the marinade and chill for at least 2 hours.
2. Preheat a barbecue or ridged griddle pan. Lightly oil the grill and cook the squid for 2-3 minutes on each side. Drizzle with olive oil and serve with a crisp green salad and lemon wedges.
Creamy Asparagus, Lemon, and Walnut Pasta
o   7 
ounces dried spaghetti (or pasta of your choice)
o   1
 pound asparagus spears
o   1/4
 cup walnuts, finely chopped
o   1
 garlic clove, peeled
o   3 
tablespoons extra-virgin olive oil
o   Zest of one lemon
o   Salt and freshly cracked black pepper
Bring a large pot of water to a strong boil. Season with salt, then add pasta. Cook according to package directions for "al dente." Set aside about 1 cup cooking water, then drain pasta.
While water is coming to a boil, cut off and discard the tough ends of the asparagus. Cut the remainder into 1/3-inch rounds, leaving the tips intact. Heat olive oil and garlic in a large pan over medium heat for five minutes. Add asparagus, salt, pepper, and 1/3 cup of the reserved pasta water. Cover pan and cook asparagus for 4 to 8 minutes, until tender to the bite. Turn off heat and discard garlic.
Once pasta is finished, purée 1/3 of the cooked asparagus and 1/4 cup of the reserved cooking water in a food processor, blender, or immersion blender until smooth. Try to avoid blending the asparagus tips, for aesthetic reasons.
Add puréed asparagus back to pan, along with sliced asparagus. Mix in cooked pasta, lemon zest, and more pasta water as needed to keep the sauce loose. Heat on low for a minute or two to allow pasta to absorb some of the sauce. Serve immediately, topped with chopped walnuts.
Roasted Fennel Pork
BRINE
.    1/4 cup honey
.    2 tablespoons black peppercorns
.    18 fresh bay leaves (1/3 ounce)
.    10 thyme sprigs
.    10 flat-leaf parsley sprigs
.    2 heads of garlic, halved horizontally
.    1 cup kosher salt
.    3 quarts cold water
.    One 4-pound boneless pork loin, tied
RUB
.    2 tablespoons fennel seeds, coarsely chopped
.    1 teaspoon crushed red pepper
.    6 garlic cloves, thinly sliced
.    1 teaspoon finely grated lemon zest
.    Pinch of salt
.    1/4 cup extra-virgin olive oil
.    2 tablespoons canola oil
1.            MAKE THE BRINE In a medium saucepan, combine the honey, peppercorns, bay leaves, thyme, parsley, garlic and salt with 1 quart of the water and bring to a boil, stirring to dissolve the salt. Pour the brine into a large bowl and let cool. Add the remaining 2 quarts of cold water along with the pork and refrigerate overnight (12 to 18 hours). Drain and pat dry, picking off any seasonings.
2.           MAKE THE RUB In a mini food processor or a mortar, combine the fennel seeds, red pepper, garlic, lemon zest and salt and process or pound to a paste. Stir in the olive oil. Rub half of the spice paste on the lean side of the pork and let stand at room temperature for 2 hours.
3.           Preheat the oven to 350° and set a rack on a large rimmed baking sheet. On a large griddle, heat the canola oil until shimmering. Add the pork fat side down and cook over moderately high heat until browned, about 5 minutes. Transfer the pork to the rack, fat side up, and slather with the remaining garlic paste. Roast the pork for about 1 hour, until an instant-read thermometer inserted in the thickest part registers 140° to 145°. Let rest for 20 minutes before slicing.
SUGGESTED PAIRING
This aromatic roast is great with an equally aromatic Pinot Noir from Oregon, where cool nights concentrate the scents and flavors in the grapes.
Spaghetti with Ramps, Breadcrumbs, & Poached Egg

Pangrattato (Toasted Breadcrumbs) with Thyme – adapted from Jamie Oliver: 
4 tablespoons Olive Oil
1/2 cup Grated Breadcrumbs or Unseasoned Canned Breadcrumbs
2 tablespoons Fresh Thyme Leaves, chopped
Spaghetti with Ramps, Pangratto and Poached Egg – Adapted from Mario Batali:
1 pound Dry Spaghetti
3 tablespoons Olive Oil
8 ounces Ramps, white bulb ends cut off and green leaves cut in half or thirds & set aside
1/2 cup Pangrattato with Thyme
4 Farm Fresh Organic Eggs
1.5 tablespoons Red Chili Flakes (less if you like it not so spicy)
2 tablespoons Kosher Salt
First, prepare Pangrattato. Heat oil in a skillet over medium heat. Stir in breadcrumbs and thyme. Fry for about 3 minutes, stirring often, until golden brown. Set aside.
Boil Water in a large pasta pot and add 2 Tablespoons of Salt. Cook Spaghetti according to package directions. While pasta is in the water cooking, heat Oil in a large skillet over medium high heat.
Meanwhile put water in another high sided frying pan and bring to a slow boil ( for the poached eggs)
Next, Add the white root ends of the ramps to the skillet and saute until tender. Add a bit of salt and chili flakes. Add the ramp greens and sauté until totally wilted – at least 5 minutes. Test the ramps by tasting. They can vary between tougher or more tender. If they are on the chewier side you can continue to cook.
Once pasta is done, drain and add it to the skillet with the ramps. Reserve a half cup of pasta water in case you need to loosen the pasta later.Toss pasta with ramps to coat and turn heat down to the very lowest flame. Taste for seasoning and add extra Salt and Pepper if needed.
Pop your eggs into the slow boiling water and poach (adding a drop of vinegar to the water will help keep the eggs intact). Yolks should remain very soft.
To plate: Divide pasta among serving bowls, top with breadcrumbs, and carefully slide the poached egg onto the top of each bowl using a slotted spoon. Serve right away.
Best Roast Leg of Lamb
Ingredients
1 bulb garlic, 3 cloves peeled and crushed, the others left whole
1 small bunch fresh rosemary, half the leaves removed and coarsely chopped, half in sprigs
1 lemon, zest of
olive oil
2 kg quality leg of lamb
sea salt
freshly ground black pepper
1.5 kg potatoes, peeled and cut in half
For The Mint Sauce
4 tablespoons chopped fresh mint leaves

1 teaspoon sugar

2 pinches salt

1 tablespoon hot water

3 tablespoons wine vinegar
Preheat the oven to 200ºC/400ºC/gas 6 and place a roasting dish for the potatoes on the bottom.
Mix the crushed garlic, chopped rosemary, lemon zest and olive oil together. Season the lamb with salt and pepper and rub the marinade into it. Place on the hot bars of the oven above the tray.
Boil the potatoes, simmer for 10 minutes and scuff the edges. Add the rosemary sprigs and whole garlic cloves, season with salt and pepper and drizzle over a good lug of olive oil. Tip the potatoes into the tray and place under the lamb to catch all the lovely juices.
To make the mint sauce, mix the chopped mint, sugar, salt, hot water and wine vinegar.
Cook the lamb for about an hour and 15 minutes if you want it pink, or an hour and a half if you want it more well done. Take it out of the oven and cover with tinfoil and leave for 15 minutes before serving. Carve and serve with the potatoes and mint sauce.
Tip: Try putting a few parsnips or carrots in with the roast potatoes.
Orzo with Peas and Parsley Pesto
This is like a pasta version of the classic rice and peas risotto, risi e bisi. It's a beautiful springtime dish. You can make a whole batch of pesto so that you have it on hand for other uses (like sandwiches), but for this dish you'll need only a half batch.
For the parsley pesto (this is a whole batch; you'll need only 1/3 cup, a half batch):
2 garlic cloves, halved, green shoots removed
2 cups tightly packed flat-leaf parsley leaves
Salt to taste
1/3 cup extra virgin olive oil
6 tablespoons freshly grated Parmesan
Freshly ground pepper
For the pasta:
10 ounces (1 1/3 cups) orzo
1 1/2 cups fresh peas (about 1 3/4 pound in the shell)
Additional grated Parmesan or Pecorino for serving (optional)
1. Make the pesto. Turn on a food processor fitted with the steel blade and drop in the garlic. When it is chopped and adhering to the sides of the bowl, stop the machine and scrape down the bowl. Alternatively, mash with a generous pinch of salt in a mortar and pestle. Add the parsley to the food processor (or to the mortar and pestle) and process until finely chopped (or grind to a paste in the mortar and pestle). With the machine running, add the olive oil in a slow stream and process until the mixture is smooth (or slowly work into the mixture using the mortar and pestle). Stop the machine, scrape down the sides of the bowl and add the cheese. Pulse to combine. Measure out 1/3 cup and refrigerate the rest in a covered container.
Note: If you have a high-powered hand blender, this is also a good tool for making pesto. Put all of the ingredients except the cheese into a jar, insert the blender and process until smooth. Stir in the cheese.
2. Bring a large pot of generously salted water to a boil and add the orzo. Cook 5 minutes. Add the peas and continue to cook for another 4 minutes, until the orzo is cooked through but al dente. Add a ladleful of the cooking water to the pesto, then drain the orzo and peas and toss with the pesto. Serve, passing more Parmesan or Pecorino in a bowl.
Yield: 4 servings
Advance preparation: The pesto will keep for a week or two in the refrigerator.
Spring Pea Falafel with Marinated Radishes and Minted Yogurt
MARINATED RADISHES
.    1 tablespoon vegetable oil
.    1 large shallot, thinly sliced
.    2 thyme sprigs
.    2 tablespoons honey
.    1/4 cup Champagne vinegar
.    1 bunch red radishes, thinly sliced 
FALAFEL
.    1/2 cup dried green split peas
.    1 1/2 cups frozen peas, thawed
.    1/2 cup chopped onion
.    1 tablespoon all-purpose flour
.    2 tablespoons chopped parsley
.    2 garlic cloves, chopped
.    1 teaspoon ground coriander
.    1 teaspoon ground cumin
.    1/2 teaspoon baking powder
.    1/4 teaspoon cayenne pepper
.    1 tablespoon fresh lemon juice
.    Salt
.    3 tablespoons extra-virgin olive oil 
MINTED YOGURT
.    1/2 cup plain low-fat Greek yogurt
.    1 tablespoon chopped mint
.    1 teaspoon sumac (optional; see Note)
.    Salt and freshly ground pepper
FOR SERVING
.    1 tablespoon sesame seeds
.    1/2 small red onion, thinly sliced
.    1 cup pea shoots or watercress
2 tablespoons fresh lemon juice
.    In a small saucepan, heat the vegetable oil. Add the shallot and thyme and cook over moderately low heat until the shallot is softened, about 4 minutes. Add the honey and vinegar and simmer for 2 minutes. Let cool. Put the radishes in a shallow dish and pour the marinade over them. Cover and refrigerate for at least 4 hours or overnight.
.    Working in 2 batches, grind the split peas to a powder in a spice grinder. In a food processor, pulse the thawed peas a few times. Add the ground split peas, onion, flour, parsley, garlic, coriander, cumin, baking powder, cayenne, lemon juice and 1 teaspoon of salt and process until thoroughly combined. Form the mixture into 12 falafel patties using a scant 1/4 cup per patty. Refrigerate the falafel until firm.
.    In a bowl, combine the yogurt, mint and sumac and season with salt and pepper.
.    Preheat the oven to 400°. In a large nonstick skillet, heat the olive oil. Add the falafel patties in two batches to the skillet and cook over moderately high heat until browned, crisp and heated through, about 3 minutes per side. Transfer the falafel to a cookie sheet. Rewarm all of the patties in the oven, about 4 minutes.
Drain the radishes; discard the thyme sprigs. Spoon the minted yogurt onto plates and top with the radishes and the falafel. Scatter the sesame seeds, red onion and pea shoots all around, drizzle with the lemon juice and serve.
Eggs in Spicy Minted Tomato Sauce
Serves 2 as a main dish, or 4 as an appetizer
2 tablespoons unsalted butter
2 tablespoons olive oil
1 medium yellow onion, diced
3 to 4 garlic cloves, minced
1 jalapeño pepper, seeded and minced
One 28-ounce can crushed tomatoes
Sriracha or other hot sauce to taste
1 bay leaf
1 tablespoon chopped fresh mint
Salt and pepper to taste
4 large eggs
Crusty bread, for serving
In a large, deep-sided skillet or frying pan with a tight-fitting lid, heat butter and olive oil over medium heat. When the butter melts, add onion and sauté for about 5 minutes, or until translucent. Add garlic and jalapeño and sauté for 1 more minute.
Add crushed tomatoes, hot sauce, and bay leaf. Bring the mixture to a boil, then reduce the heat to keep it at a steady simmer. Simmer, uncovered, for 20 to 30 minutes, or until the sauce has thickened and coalesced. Stir in mint.
Use a spoon or spatula to make four depressions in the sauce, spacing them evenly throughout the pan. Gently crack an egg into each depression. Season the tops of the eggs with salt and pepper, then cover the pan and cook until the whites are set and the yolks are done to your liking.
Serve the eggs straight from the pan, with plenty of crusty bread for mopping up the yolks and sauce.
Beef Stew
Ingredients
3 pounds beef chuck, trimmed of visible fat and cut into 1 1/2-inch cubes
1/3 cup tomato paste
3 tablespoons balsamic vinegar
2 tablespoons all-purpose flour
Coarse salt and ground pepper
1 pound medium onions (about 2), cut into 1-inch chunks
1 pound small white or red new potatoes (about 6), well scrubbed, halved if large
1 pound carrots, cut into 1 1/2-inch lengths
6 garlic cloves, smashed
2 bay leaves
Directions
Preheat oven to 350 degrees. In a Dutch oven (5-quart) with a tight-fitting lid, combine beef, tomato paste, vinegar, and flour; season with salt and pepper.
Add onions, potatoes, carrots, garlic, bay leaves, and 3 cups water. Bring to a boil. Cover, transfer to oven, and cook until meat is fork-tender, 2 to 2 1/2 hours. Remove bay leaves and, if desired, season with salt and pepper before serving.
Variations
Slow-Cooker Variation: Place beef in a 5-quart slow cooker. Distribute tomato paste, vinegar, and flour over beef; season generously with salt and pepper. Add onions, potatoes, carrots, garlic, and bay leaves. Cover slow cooker; cook on high until beef is fork-tender, about 5 hours (or cook on low heat 8 hours).
Homesick Texan Carnitas
3 pounds boneless pork shoulder or pork butt, cut into 2-inch cubes
1/2 cup orange juice
1/4 cup lime juice (from about 2 to 3 limes)
4 cloves garlic, peeled and crushed
1 teaspoon ground cumin
1 teaspoon Kosher salt, plus more to taste
Corn tortillas, for serving plus
Avocado slices, chopped cilantro and fixings of your choice (we love pickled jalapenos or onions, lime wedges and a bit of slaw)
Place the pork in a large Dutch oven or heavy pot. Add the orange juice, lime juice, garlic, cumin, salt and enough water to just barely cover the meat. Bring the pot to a boil and then reduce the heat to a simmer. Simmer uncovered for two hours. Don't touch the meat.
After two hours, increase the heat to medium-high and while occasionally stirring and turning the pieces, continue to cook for about 45 minutes, or until all of the liquid has evaporated, leaving only the rendered pork fat. Let it sizzle in this fat long enough to brown at the edges, turning pieces gently (they'll be eager to fall apart), only as needed.
When pork has browned on both sides, it's ready. Adjust seasonings to taste and serve on warmed tortillas with fixings.
3 bunches baby bok choy
1 tablespoon olive oil
1 clove garlic
1 teaspoon ground ginger
1/8 cup dry white wine (or water or chicken broth)
salt and pepper to taste
Start by trimming the stem off, just the end, to ensure that the bok choy cooks evenly. Separate out the leaves, keep the tender center intact and clean under running water. Drain.
Finely mince garlic. Heat olive oil in wok or frying pan. Add garlic and ginger to heated pan.
Turn the heat to medium-high. Let the ginger and garlic gently sizzle in the oil. When the aromatics become fragrant and light golden brown, add the bok choy leaves.
Toss very well to coat each leaf with the flavored oil for approximately 15 seconds.
Pour in broth, water or wine. Immediately cover and let cook for 1 minute.
Season with salt and pepper to taste.
Red Roasted Asian Beef Stew
Serves 6
            4
 pounds beef chuck cut into 2 inch cubes
            1
 English short rib (1/2-1 lb) (optional)
salt and pepper
            1-2
 tablespoon vegetable oil
            1
 cup sweet rice wine, sake, or sherry
            1/3
 cup soy sauce
            1
 teaspoon rice wine vinegar
            2 
cups chicken stock
            1-2
 tablespoon brown sugar or an equivalent amount of rock sugar (adjust seasoning to taste)
            2 
star anise
            1 
slice ginger root
            6 
garlic cloves
            3-4
 red chili peppers, fresh or dried (again, suit to taste)
            3 
whole dried shiitake mushrooms or fresh ones cut into quarters
            1
 lime, zested
            3-4 
large carrots, peeled and cut into 1 inch pieces
            1
 large daikon, peeled and cut into 1 inch pieces
Heat oven to 325 degrees. Season meat with salt and pepper. Heat oil in a large ovenproof pot with a tight-fitting lid. Working in batches brown beef all over, removing each piece when done. Add oil as needed.
Add all meat back to pot. Add wine and vinegar and bring to a boil, scraping up browned bits. Add soy sauce and sugar then the stock. Add star anise, ginger, garlic, chili peppers, and mushrooms and bring to a boil. Return beef to pot and add lime zest. Add water to cover meat. Cover, transfer to oven.
Check pot after 1 hour. Turn over pieces of short rib and stir meat. Cover again and cook 1 hour more, or until meat is tender.
Move pot to stove top. Simmer on medium heat with lid off to reduce liquid. Cook for 30 minutes.
To eliminate fat: Depending on your cut of meat, the stew can be very greasy. You can spoon off the fat or poor cooled sauce into a fat separator to remove fat. Alternatively, place pot in refrigerator overnight. Scrape off fat the next day.
Before serving, reheat the stew and cook without the cover to reduce the sauce a little. At the same time, boil vegetables in a large pot of water for 20 minutes. The vegetables are boiled separately to make sure they do not overcook and retain their color. In addition, raw daikon tends to have a very strong flavor that I don't like in the stew. The boiled daikon is mild.
Add boiled vegetables to stew. Serve with fresh hot rice or noodles. Also try it with a sprinkling of chopped green onion and a squeeze of lime.
Leftovers make a delicious noodle soup. Bring a pot of water to a boil. Add noodles. When the noodles are almost done, throw in a large handful of fresh spinach. Cooked until wilted, then drain noodles and spinach. Toss with enough sesame oil to coat noodles (1/4-1/2 tsp). Add meat and meat sauce. Pour hot water or chicken stock to cover the noodles and stir. Add soy sauce, meat sauce, chopped green onion, and/or lime to taste. This noodle soup is awesome with a big helping of chili sauce.
Slurp.
Roasted Prime Rib with Sauteed Mushrooms and Mom's Creamy Horseradish Sauce
Serves 6-8
FOR THE MEAT:
            2
 tablespoons kosher salt
            3 
teaspoons ground black pepper
            3 
cloves garlic
            2 
medium shallots
            2 
tablespoons fresh rosemary leaves
            2
 tablespoons fresh thyme leaves
            1/2
 cup olive oil
            1
 ( 8lb) standing rib roast, trimmed (to multiply or divide the recipe,this translates to roughly 1 rib for every 2-3 people)
FOR THE HORSERADISH SAUCE:
            1
 cup heavy cream
            6 
tablespoons lemon juice
            1/2 
teaspoon salt
            1/4
 teaspoon paprika
            1/4 
teaspoon cayenne pepper
            4 
tablespoons grated horseradish
FOR THE SAUTEED MUSHROOMS:
            2
 lbs mushrooms, washed, dried, and if large, chopped
            4
 tablespoons unsalted butter
            2
 tablespoons olive oil
            1-2
 tablespoon Worcestershire sauce
            2
 cloves garlic, finely chopped
salt and pepper, to taste
            6 
tablespoons fresh parsley, chopped
MARINATE: In a food processor, place salt, pepper, garlic, shallots, rosemary, thyme, and olive oil. Pulse until combined. Place the roast bone-side down in a large pan and pour the marinade over it. Rub as much as you can into every crevasse. Cover and refrigerate 4-24 hours.
ROAST: Remove the meat and let it come to room temperature, about 1 hour before you plan to put it into the oven. Meanwhile, preheat the oven to 550 and place the rack in the center. Insert a meat thermometer into the thickest part of the roast. When the oven is ready, place the roast, uncovered, into the oven. Immediately reduce the oven temperature to 350. Cook until the thermometer registers 125 degrees, about 15-20 minutes per pound, or 2 1/2 hours for an 8 lb roast. Check the temperature of the meat in several other places. A range of 125-155 will give you a good variety of doneness. Cover the roast with foil and let it rest on the counter at least 15 minutes before carving.
MAKE THE SAUCE : You can do this while the meat cooks. In a medium bowl, beat cream until stiff. With the mixer on, add lemon juice, salt, paprika, cayenne and horseradish. Chill until ready to serve.
SAUTE THE MUSHROOMS: Heat a large skillet over HIGH heat. Add the butter and olive oil. When the butter foams, give the pan a shake and then add the mushrooms, Worcestershire sauce, and garlic. Toss the mushrooms until brown, about 5-10 minutes. Remove from heat and season with salt and pepper to taste. Toss with parsley and then place in a serving dish.
CARVE: Slice the first piece between the ribs, close to the bone. Cut the second piece half way to the next bone and so on and so on giving each person basically half of the meat between the ribs.
SERVE: Top with sauteed mushrooms and whipped horseradish sauce. Garnish with fresh parsley.
Roast Chicken with Bread Salad
This roast chicken, from chef Judy Rodgers at San Francisco's Zuni Café, is legendary. The reason it's so good is because she insists on small free-range birds (which tend to be juicier than large, lean roasters), a 24-hour salting period to allow the seasoning to penetrate deeply and a high roasting temperature for a supremely crispy skin. The accompanying bread salad is meant to be a bed on which to serve the roast chicken and sop up its delicious juices.
One 2 3/4-pound free-range chicken
4 thyme sprigs
4 small garlic cloves, lightly crushed and peeled
2 teaspoons fine sea salt
Freshly ground pepper

Using your fingers, gently loosen the skin from the chicken breasts and thighs. Stuff the thyme and garlic under the skin and spread in an even layer. Sprinkle the salt all over the chicken and season with pepper. Cover and refrigerate for at least 24 hours.
Preheat the oven to 500°. Preheat a large cast-iron skillet in the oven for 5 minutes. Put the chicken in the skillet, breast side up, and roast for 30 minutes. Turn the chicken breast side down and roast for about 15 minutes longer, or until the juices run clear when a thigh is pierced. Transfer the chicken to a board and let rest for 10 minutes; carve.
Skim the fat from the juices in the skillet. Arrange the Bread Salad with Currants and Pine Nuts on a platter and top with the chicken. Pour the juices over all and serve.
Shiitake-Mushroom Stuffing and Sausage Stuffing
1/4 cup extra-virgin olive oil
2 large onions, chopped (6 cups)
4 leeks, white and pale-green parts only, quartered, finely chopped, and rinsed well (5 cups)
1 bunch celery, finely chopped (4 cups)
4 garlic cloves, minced
8 ounces shiitake mushrooms, stems and caps sliced
1 pound sweet Italian sausages, casings removed (for Sausage Stuffing)
10 cups dried white Pullman bread or sandwich bread, crusts removed, bread cut into 1/2-inch cubes (from 2 loaves)
2 cups dried apricots, coarsely chopped
1/4 cup chopped fresh sage
2 tablespoons fresh thyme
2 cups homemade or store-bought low-sodium vegetable stock
8 ounces (2 sticks) unsalted butter, melted
Coarse salt and freshly ground pepper
Directions
Heat 2 tablespoons oil in a large straight-sided skillet over medium heat. Add onions, leeks, celery, and garlic. Cook until onions are translucent and tender, about 20 minutes.
Add mushrooms, and cook until soft, about 5 minutes. Transfer mixture to a plate, and let stand until cool, about 5 minutes. (Onion-mushroom mixture can be refrigerated overnight.)
If making sausage stuffing: Return skillet to medium heat, and add remaining 2 tablespoons oil. Stir in sausage, and cook, breaking into small pieces, until browned, about 9 minutes. Remove from skillet using a slotted spoon, and transfer to paper-towel-lined plates. Let drain. (Sausage can be refrigerated overnight.)
Combine onion-mushroom mixture, bread, apricots, sage, and thyme in a large bowl. Just before baking, pour stock and melted butter over top of mixture. Season with salt and pepper. Mix to combine.
To make sausage stuffing: Transfer 5 cups stuffing to another large bowl, and mix in sausage.
Let stuffings stand for 10 minutes, allowing bread to soak up liquid.
To cook mushroom stuffing: Preheat oven to 375 degrees. Place stuffing in a 9-by-13-inch baking dish, and bake until top is crisp and stuffing is heated through, 50 to 55 minutes. Let stand for 10 minutes before serving.
To cook sausage stuffing, follow directions for stuffing spice-rubbed roast turkey (recipe above), or preheat oven to 375, transfer stuffing to a 9-by-13-inch baking dish, and bake until top is crisp and stuffing is heated through, 45 to 50 minutes. Serve warm.
Cook's Note
To dry the cubed bread, leave it out overnight or spread it on a baking sheet and heat it in a 200-degree oven. The onion-mushroom and sausage mixtures can be made one day in advance and mixed with the bread and liquids just before cooking.
Roasted Carrots and Parsnips with White Balsamic
2 1/4 pounds medium parsnips, trimmed, peeled, cut into 3×1/2-inch sticks
1 1/2 pounds medium carrots, trimmed, peeled, cut into 3×1/2-inch sticks
1/4 cup extra-virgin olive oil
2 tablespoons white balsamic vinegar
1 tablespoon minced fresh rosemary
2 teaspoons coarse kosher salt
1 teaspoon black pepper
Preheat oven to 425°F. Combine parsnips and carrots on large rimmed baking sheet. Add oil and remaining ingredients; toss to coat. Spread in even layer on baking sheet. Roast until vegetables are tender and brown around edges, stirring occasionally, about 50 minutes to 1 hour. DO AHEAD Can be made 1 day ahead. Cool. Cover and chill. Let stand at room temperature 1 hour, then rewarm in 400°F oven for 15 minutes.
White Bean & Cauliflower Soup with Truffle Oil
2 quarts vegetable stock
2 heads cauliflower, leaves and center stem removed, florets separated and stems chopped
2 (16-ounce) cans of white beans, drained and rinsed (cannellini, great northern, or navy)
2 medium potatoes, peeled and chopped into 1/2-inch pieces
1 cup chopped onion
1 cup white wine
4 garlic cloves
2 tablespoons olive oil
2 teaspoons salt
1 teaspoon freshly ground pepper
1 teaspoon dried sage
2 sprigs fresh rosemary
White truffle oil
Fresh herbs for garnish (chives or parsley)
Serves 8.
In a large pot, bring stock, cauliflower, white beans, potatoes, onions, white wine, garlic, olive oil, salt, pepper, and sage to a simmer for 15 minutes, or until potatoes and cauliflower are tender. Add the rosemary and simmer for an additional 2 minutes. Then remove and discard the rosemary.
Purée the soup in a blender, or use an immersion blender.
Serve the soup in bowls with a generous drizzle of white truffle oil and garnish with fresh herbs.
Here is some fun video inspiration for making pie — a rustic apple &  pear pie to be exact!
Sweet Potato and Brussels Sprout hash with a poached egg & Thyme Hollandaise
Brussels sprouts – 1/2 a bundle, each sprout sliced into four disk
Sweet potato – 2 peeled and chopped into small cubes of roughly equal size
Red onion – 1/2 roughly chopped
Garlic – 2 cloves minced
White pepper – 1 tsp
Salt – about 1/2tsp or to taste
Black pepper – pinch or two to taste
Coconut oil -2TB (feel free to use any oil, I just like coconut oil at higher temps)
Eggs – one egg for each serving
Thyme Hollandaise
Egg yolks – 2
Lemon – juice of 1/2 a lemon
Butter – 4 TB melted
Fresh Thyme – 2tsp chopped
Water – 1TB
Salt and pepper – a few pinches or to taste
Melt your 4 tablespoons of butter in a small sauce pan. Add the 2 tsp of thyme and cook for 1-2 minutes. Turn off heat and let sit to infuse while you prepare the rest of your meal.  Also set out the eggs for poaching on the counter, you want to bring the eggs to room temperature before cooking, it helps with poaching.
Chop up sweet potatoes, Brussels sprouts, red onion, and garlic. Heat a medium sauce pot filled with two inches of water until simmering. This will be used later for your hollandaise, so leave this pot aside (simmering) for several minutes until you have started your hash.
In a separate skillet heat oil on medium low heat and add garlic. Cook for a minute until fragrant. Add onion to this skillet and increase heat to medium. Cook for a few minutes until onion starts to soften. Add sweet potatoes and increase heat to medium high/ high heat. Cook about 8-10 minutes stirring/flipping occasionally until potatoes are almost cooked and start to brown. Add Brussels sprouts and cook for several more minutes until starting to color (4-5 minutes). Season with white pepper, black pepper, and salt.
Now, while sweet potatoes are cooking, you can work on the hollandaise sauce. Combine egg yolks, 1 TB of water and juice of 1/2 a lemon in a small-ish stainless steel bowl and place over the prepared pot of simmering water (hold with a oven mit or rag – the bowl will get warm). You want the bowl to be hovering over the simmering water, not touching the water if possible. Whisk eggs/water/lemon juice together for several minutes. It will start to get foamy and thicken. You want to thicken your eggs but not cook them. After 2-3 minutes remove from head and slowly drizzle in butter/thyme mixture while whisking vigorously. Keep whisking until your hollandaise has thickened up some. Set aside.
After you finish the hollandaise, use your simmering pot of water and fill with more water (make sure it is a few inches full) and add in a splash of apple cider vinegar. Heat the pot up to a high simmer/low boil. At this time spoon your hash mixture onto plates to be ready for your poached eggs and get out a wooden spoon. Crack an egg into a small ramekin. Once water is ready, dip the edge of the ramekin into the water and gently pour the egg into the water (one at a time). Use the wooden spoon to gently swish the water surrounding the egg towards the egg to help hold the shape. Cook on a high simmer for 3-4 minutes ( I like my yolk runny) or longer for a cooked yolk. Remove egg with a slotted spoon, let drain and place on top of hash. Spoon over hollandaise. Repeat process for any other servings. Devour and lick plate clean. Happy brunching!
Butternut Squash Risotto with Shrimp
3 ounces pancetta (Italian bacon), chopped
1 pound large uncooked deveined peeled shrimp
1 tablespoon olive oil
1 large onion, chopped (about 1 3/4 cups)
1 garlic clove, chopped
1 cup short-grain rice (such as arborio or carnaroli)
4 cups vegetable broth, heated in microwave
1 1-pound package peeled butternut squash, cut into ½ inch cubes (about 3 cups)
1 tablespoon chopped fresh sage
1/4 cup whipping cream
Sauté pancetta in heavy large saucepan over medium-high heat until fat renders and pancetta is browned and almost crisp. Using slotted spoon, transfer to medium bowl. Sprinkle shrimp with salt and pepper; add to saucepan. Sauté until browned and just opaque in center, about 3 minutes. Add to bowl with pancetta. Add oil to same saucepan, then onion and garlic; cook until onion is translucent, stirring often, about 5 minutes. Add rice; stir 1 minute. Add hot broth; increase heat and bring to boil. Add squash and sage; reduce heat to medium and simmer until rice is tender but still firm to bite and mixture is creamy, stirring often, about 15 minutes. Stir in cream, shrimp, and pancetta. Season to taste with salt and pepper. Transfer to large shallow bowl.
Glazed Carrots with Braised Bibb Lettuce
16 
carrots with tops (you can tell how fresh the carrots are by the tops), not more than 3/4 inch in diameter, peeled and trimmed with 1 inch of top left on
1
 teaspoon sugar
Scant 1/2
teaspoons salt
1 1/2
teaspoon white wine vinegar
1 
bay leaf
1 
sprig of fresh thyme
3 
tablespoons unsalted butter
A few grinds of white pepper
6 
Bibb lettuce leaves, larger ones torn in half
Place everything, except the lettuce, in a 12-inch, heavy bottomed saute pan. Add about 1 cup of cold water to the pan, or just enough to reach an 1/8 inch from the tops of the carrots. (Don't add more than a 1 1/2 cups to start.)
Place the pan over high heat and bring to a boil. The idea here is to have the water all but evaporate at the same time as the carrots finish cooking, leaving you with a rich and delicious glaze to coat and be poured over the dish. If the water seems to be evaporating before the carrots are close to being done, you can add a little more. At the same time, if the carrots seem to be getting too done, remove them from the pan. Reduce the glaze, and then at the end, add the carrots back to warm them and to cook the lettuce.
The whole idea here is to have a tender carrot that is not mushy, yet not so hard that when you cut it, it shoots across the table. It is timing, and you can always use a toothpick to test the fattest part of the carrot — it should yield with pressure. As the water gets close to being gone, add the lettuce. Let the lettuce wilt and get soft (this will only take about 30 seconds). You want it to be vibrant green but tender like cooked spinach. Taste and adjust the seasoning. Plate, drizzle the glaze over the veggies and serve.
Chunky Squash Soup with Chickpeas
1 butternut squash, peeled and diced, reserving the seeds
1 tablespoon cumin seeds
1 dried red chilli, crumbled
olive oil
2 sticks celery, trimmed and finely chopped
3 cloves garlic, peeled and finely chopped
a few sprigs of fresh flat-leaf parsley, leaves picked and chopped, stalks finely chopped
2 small red onions, peeled and finely chopped
1.5 litres organic chicken or vegetable stock
2 x 400 g tinned chickpeas, drained
50 g almond flakes
½ tablespoon fennel seeds
½ tablespoon sesame seeds
½ tablespoon poppy seeds
sea salt
freshly ground black pepper
2 lemons, zest of
a few sprigs of fresh mint, leaves picked and chopped
harissa paste
extra virgin olive oil
Preheat your oven to 200°C/400°F/gas 6. Place the squash, cumin and crumbled chilli on to a baking tray. Drizzle with olive oil, mix together and place in the preheated oven. Roast for 45 minutes until the squash is cooked through.
Once the squash is roasted, heat a large saucepan and pour in a splash of oil. Add the celery, garlic, parsley stalks and two-thirds of the onion, and cook gently with a lid on until softened. Drop in the roasted squash and let it sweat for a few minutes, then pour in the stock. Bring to the boil, turn down the heat and simmer for 15 minutes. Add the chickpeas and simmer for 15 minutes more.
Meanwhile, toast the reserved squash seeds with the almond flakes, fennel, sesame and poppy seeds in a little olive oil until they are nicely coloured all over.
Season the soup well and, using a hand-held blender, whiz for a few seconds so it thickens, but there are still some chunky bits. Keep warm while you mix together the lemon zest, chopped parsley leaves and mint leaves. Chop the remaining onion until it's really fine, then mix into the zesty mixture.
To serve, spoon half a teaspoon of harissa paste into each bowl. Divide the zesty herb mixture between the bowls and ladle over the soup. Stir each bowl once with a spoon, then sprinkle with the toasted seeds and almonds and finish with a drizzle of extra virgin olive oil.
Moroccan Style Stuffed Acorn Squash
Martha Stewart Living (October 2009) 


2 medium acorn squashes (about 2 pounds), halved and seeded
2 tsp. extra-virgin olive oil
3/4 lb. ground chuck (95 percent lean)
ground cinnamon
ground nutmeg
2 tsp. course salt
1/2 medium onion, finely chopped
4 cloves garlic, minced
3/4 cup bulgur wheat
2 cups water
1/4 cup golden raisins
1/4 cup Italian flat-leaf parsley, chopped
2 tbsp. toasted pine nuts
1. Preheat oven to 400. Place squashes, cut sides down in a 9×13 inch casserole dish. Bake until tender, 35 to 40 minutes.
2. Meanwhile, heat oil in a 4-quart pot with a tight-fitting lid over medium heat. Add ground beef, a pinch of cinnamon and nutmeg, and 1 teaspoon salt. Cook, stirring frequently, until browned and cooked through, 5 to 7 minutes. Transfer beef to a bowl or plate using a slotted spoon, keeping as much of the cooking liquid in the pot as possible.
3. Add onion, and cook until slightly translucent, about 5 minutes.  Add garlic, and cook until fragrant, about 30 seconds. Add remaining teaspoon salt and the bulgur, and stir to combine.  Add water, and bring to a boil. Reduce heat to medium-low, cover, and cook for 15 minutes.  Take pot off the stove and let sit covered for 5 minutes.  Fluff with fork, and add reserved beef, the raisins, parsley and pine nuts.
4. Scrape out baked squashes, forming 1/4 inch thick bowls, and fold flesh into bulgur mixture. Divide among squash halves, and return to the oven. Bake until warmed through and tops are browned. 12 to 14 minutes.
Tomato Tarte Tatin
1 3/4 pounds plum tomatoes (8 large)
3 tablespoons unsalted butter, room temperature
3/4 cup sugar
1 teaspoon vanilla extract
1 sheet frozen puff pastry (half of 17.3-ounce package) thawed, corners cut off to make very rough 9- to 10-inch round
Lightly sweetened whipped cream
Preheat oven to 425°F. Bring large saucepan of water to boil. Cut shallow X in bottom of each tomato. Add 4 tomatoes to boiling water. Blanch tomatoes just until skins at X begin to peel back, 15 to 30 seconds. Using slotted spoon, transfer blanched tomatoes to bowl of ice water to cool quickly. Repeat with remaining tomatoes. Peel tomatoes. Cut out cores, halve lengthwise, and remove seeds.

Spread butter over bottom of 91/2-inch-diameter, 2- to 3-inch-deep ovenproof skillet (preferably cast-iron). Sprinkle 3/4 cup sugar over butter. Arrange tomato halves, rounded side down and close together, in concentric circles in skillet to fill completely.

Place skillet over medium heat. Cook until sugar and butter are reduced to thickly bubbling, deep amber syrup (about 1/4 inch deep in bottom of skillet), moving tomatoes occasionally to prevent burning, about 25 minutes. Remove skillet from heat. Immediately drizzle vanilla over tomatoes. Top with pastry round. Using knife, tuck in edges of pastry. Cut 2 or 3 small slits in pastry. Place skillet in oven and bake tart until pastry is deep golden brown, about 24 minutes.

Cool tart in skillet 10 minutes. Cut around sides of skillet to loosen pastry. Place large platter over skillet. Using oven mitts as aid, hold skillet and platter firmly together and invert, allowing tart to settle onto platter. Carefully lift off skillet. Rearrange any tomato halves that may have become dislodged.

Serve tart warm or at room temperature with whipped cream.
Arnold Palmer Sandwich
Combine finely chopped hard-boiled eggs and pickles with mustard and mayonnaise, then spread on a slice of multigrain bread.
Combine drained canned tuna, finely chopped celery and onion, mayonnaise and lemon juice, then spread on another slice of bread. Sprinkle with torn basil leaves and assemble.
Fines Herbes Omelet
Adapted from "Essential Pépin" by Jacques Pépin (Houghton Mifflin Harcourt, 2011)
Time: 15 minutes
10 large eggs, preferably organic
1/4 teaspoon salt
1/2 teaspoon pepper
1/2 cup loosely packed chopped fresh herbs ( 1/4 cup parsley, and 1/4 cup combined tarragon, chives and chervil)
1 tablespoon canola oil
2 tablespoons unsalted butter.
1. Using a fork, beat the eggs, salt and pepper in a bowl until thoroughly mixed. Stir in the herbs.
2. Heat half the oil and butter in a 10-inch nonstick skillet over high heat. When the oil and butter are hot, add half the egg mixture. Stir continuously with a fork, shaking the pan, for about 2 minutes to create the smallest-possible curds. When most of the egg is solid, cook it without stirring for 10 seconds to create a thin skin on the underside.
3. Roll the omelet by folding over one side and then the opposite site, and invert it onto a plate. Repeat with the remaining ingredients to make a second omelet. Cut each omelet in half.
Yield: 4 servings.
How to make a Basic Tomato Sauce with Fresh Tomatoes
Makes about 8 pints
Ingredients
15 pounds ripe tomatoes
1/4 to 1/2 cup lemon juice or red wine vinegar
2 teaspoons salt (optional)
Equipment
6 1/2-quart or larger Dutch oven or stock pot
Mixing bowls
Slotted spoon
Knife and cutting board
Food processor or blender
Jars for canning or containers for freezing
Instructions
Peel the tomatoes: Bring a large Dutch oven or stock pot of water to a boil over high heat. Fill a mixing bowl with ice and water and set this next to the stove.Core out the stems from the tomatoes and slice a shallow "X" in the bottom of each fruit. Working in batches, drop several tomatoes into the boiling water. Cook until you see the skin starting to wrinkle and split, 45 to 60 seconds, then lift the tomatoes out with the slotted spoon and plunge them into the ice water. Continue with the rest of the tomatoes, transferring the cooled tomatoes from the ice water to another mixing bowl as they cool.When finished, use your hands or a paring knife to strip the skins from the tomatoes. Discard the water used to boil the tomatoes.
Roughly chop the tomatoes: Working in batches, pulse the tomatoes in the food processor. Pulse a few times for chunkier sauce, or process until smooth for a pureed sauce. Transfer each batch into the Dutch oven or stock pot.Alternatively, chop the tomatoes by hand. Process through a food mill for a smoother sauce.For a very chunky sauce, skip this stop entirely and let the tomatoes break down into large pieces as they cook.
Simmer the tomatoes: Bring the tomato sauce to a simmer over medium heat. Continue simmering for 30 to 90 minutes, stirring occasionally, until the sauce reaches the taste and consistency that you like.
Stir in the lemon juice and salt: When finished cooking, stir in the lemon juice or vinegar and salt. A quarter cup is necessary to ensure a safe level of acidity for canning. Add more lemon juice or vinegar to taste.
Preserving Option 1 — Freeze your sauce: Let the sauce cool and then transfer it into freezer containers or freezer bags. Sauce can be kept frozen for at least three months before starting to develop freezer burn or off-flavors.
Preserving Option 2 — Can your sauce: Transfer the hot sauce into sterilized canning jars. Top with new, sterilized lids, and screw on the rings until finger tight. Process in a pot of boiling water for 30 minutes. Let cool completely on the counter — if any lids do not seal completely (the lids will invert and form a vacuum seal), refrigerate that sauce and use it within a week or freeze it for up to three months. Canned tomato sauce can be stored in the pantry for at least a year.
Goat Cheese Cake with Mixed Berries
Unsalted butter (for pan)
3/4 cup sugar plus more for pan
12 ounces fresh soft goat cheese, room temperature
1 teaspoon finely grated lemon zest
1 teaspoon fresh lemon juice
1 teaspoon vanilla extract
6 large eggs, separated
3 tablespoons all-purpose flour
1 1/2 pints mixed berries (blackberries, strawberries, blueberries, and/or raspberries)
 Special Equipment
A 9-inch-diameter springform pan
Preparation
Preheat oven to 350°. Butter springform pan and dust with sugar, tapping out any excess.
Using an electric mixer on medium speed, beat goat cheese, lemon zest, lemon juice, vanilla, and 3/4 cup sugar in a large bowl until smooth and creamy, about 3 minutes. Add egg yolks two at a time, beating to blend and scraping down sides of bowl between additions. Reduce speed to low, add flour, and mix just until blended.
Using clean, dry beaters, beat egg whites in a medium bowl until soft peaks form. Fold 1/4 of egg whites into goat cheese mixture just until blended; fold in remaining egg whites just until blended. Scrape into prepared pan and tap pan to level batter.
Bake cheesecake until top is set but still jiggles slightly in the center, 30–35 min-utes. Transfer to a wire rack; let cool in pan.
Run a thin knife around sides of pan; unmold cake. Serve topped with berries.
Falafel-Stuffed Eggplant with Tahini Sauce & Tomato Relish
Tahini sauce:
3 tablespoons warm water
2 tablespoons tahini (roasted sesame seed paste)
4 teaspoons fresh lemon juice
1 teaspoon honey
1/2 teaspoon ground cumin
1 garlic clove, minced
Eggplant:
2 eggplants (about 12 ounces each)
Cooking spray
3/4 teaspoon kosher salt, divided
1/4 cup chopped onion
1/4 cup fresh breadcrumbs
1/4 cup chopped fresh flat-leaf parsley
1 tablespoon tahini (roasted sesame seed paste)
2 teaspoons olive oil
1 1/2 teaspoons ground cumin
1/2 teaspoon ground coriander
1/4 teaspoon freshly ground black pepper
1/4 teaspoon ground red pepper
2 large eggs
2 garlic cloves, minced
1 (15-ounce) can no-salt-added chickpeas (garbanzo beans), rinsed and drained
Relish:
1 cup chopped seeded tomato
1/2 cup chopped seeded peeled cucumber
1/2 cup vertically sliced red onion
1/2 cup coarsely chopped fresh flat-leaf parsley
1 tablespoon fresh lemon juice
1 tablespoon extra-virgin olive oil
1. To prepare sauce, combine first 6 ingredients in a small bowl, and stir with a whisk. Set aside.
2. Preheat oven to 475°.
3. To prepare eggplant, slice the eggplants in half lengthwise; score cut sides with a crosshatch pattern. Place the eggplant halves, cut sides down, on a baking sheet coated with cooking spray. Bake at 475° for 7 minutes or until slightly tender and browned. Remove from oven; carefully scoop out pulp, leaving a 3/4-inch shell. Reserve pulp for another use. Season cut sides with 1/4 teaspoon salt.
4. Combine remaining 1/2 teaspoon salt, onion, and next 11 ingredients (through chickpeas) in a food processor; process until smooth. Spoon 1/2 cup chickpea mixture into each eggplant shell. Bake at 475° for 25 minutes or until eggplant halves are tender and chickpea mixture is lightly browned.
5. To prepare relish, combine the tomato and remaining ingredients in a bowl; stir to combine.
6. Place 1 eggplant half on each of 4 plates. Top each half with 1/4 cup relish and 1 1/2 tablespoons sauce.
Grilled Greek Chicken Kebabs with Mint-Feta Sauce
1 pound boneless, skinless chicken thighs, cut into twenty-four 1-inch pieces
1 zucchini, halved lengthwise and cut crosswise into sixteen 1-inch pieces
1/2 small red onion, quartered, layers separated
2 tablespoons olive oil
1 teaspoon dried oregano
3 tablespoons red-wine vinegar
Coarse salt and ground pepper
1/2 cup crumbled feta (2 ounces)
1/4 cup plain low-fat yogurt
1 cup fresh mint leaves
COOK'S NOTE
To assemble kebabs, start and end with a chicken piece to prevent other ingredients from sliding off the skewers.
DIRECTIONS
In a resealable plastic bag, combine chicken, zucchini, onion, oil, oregano, and 2 tablespoons vinegar; season with 1/2 teaspoon salt and teaspoon pepper. Marinate at room temperature for 30 minutes (or refrigerate up to overnight).
Heat grill or grill pan to medium. Soak eight 6-inch wooden skewers in water for 15 minutes.
Onto each skewer, alternately thread 3 pieces of chicken with 2 of zucchini and 2 of onion (see below). Grill skewers, turning occasionally, until chicken is cooked through, 12 to 14 minutes.
Meanwhile, make dipping sauce: In a food processor, blend feta, yogurt, mint, and remaining tablespoon vinegar until smooth. Serve kebabs with dipping sauce.
Summer Fruit Salad
Use any seasonal fruit in this salad. Create your own based on what you like best.
2 plums, pitted and sliced
2 nectarines, pitted and sliced
2 peaches, pitted and sliced
2 to 3 apricots, pitted and sliced
1 cup blueberries
1 cup blackberries
2 teaspoons honey
1/3 cup fresh orange juice (from 1 orange)
1/2 cup small fresh mint leaves
Toss ingredients together in a large bowl. Let sit at least 15 minutes before serving.
Simple Roasted Apricots with Honey Mascarpone
 Serves 2
4 apricots, halved and pits removed
2 tablespoons granulated sugar
1/2 cup marscarpone cheese
1 teaspoon honey
1 teaspoon chopped mint
1 teaspoon chopped lemon balm (optional)
Preheat broiler.  Place sugar in a shallow bowl.  Dip apricot halves in sugar and place in a oven safe dish.  Place dish under the broiler and bake for 3 to 4 minutes.  Keep an eye on the apricot, and carefully rotate the pan as necessary.  Sugar will melt, boil and begin to brown.  Remove from the oven and allow to cool slightly.
In a small bowl, mix honey into mascarpone cheese.  Place slightly cooled apricots on a plate.  Top with a dollop of mascarpone mixture, and a sprinkling of fresh mint and lemon balm.  Serve.
These apricots are best served just after they're baked.
Sour Cherry Slab Pie
6 cups pitted sour cherries (fresh or frozen)
1 to 1 1/2 cups granulated sugar
1/4 cup cornstarch
Juice of 1/2 lemon
Large pinch of salt
All purpose flour, for rolling out dough
Pate Brisee for Sour Cherry Slab Pie
2 tablespoons heavy cream
1 cup sifted confectioners sugar
1 to 2 tablespoons milk
Preheat oven to 375 degrees. If using frozen cherries, defrost and drain. In a large bowl, combine cherries, sugar, cornstarch, lemon juice, and salt. Stir to combine; set aside.
On a lightly floured surface, roll out the larger piece of dough into an 18-by-12-inch rectangle. Transfer to a 15-by-10-by-1-inch rimmed baking sheet, (pastry will hang over sides of pan). Pour cherry mixture into lined baking sheet; set aside.
On a lightly floured surface, roll out remaining piece of dough into a 16-by-11-inch rectangle. Drape over filling. Bring bottom pastry up and over top pastry. Pinch edges to seal. Using a fork, prick top crust all over. Brush with heavy cream.
Bake until crust is golden and filling is bubbling, 40 to 55 minutes. Transfer to a wire rack until just warm to the touch, about 45 minutes.
In a medium bowl, stir together confectioners' sugar and milk until desired glaze consistency is achieved. Use a spoon to drizzle over top. Serve warm or room temperature.
The worst part about having pickles in your fridge (store-bought or homemade) is eating the very last one. Especially when you're not sure what to do with the leftover liquid (and there's a lot of it). It's a shame to dump it out, but what else can you do?
STOP! There are a ton of ways you can use pickle juice, from straight up drinking (really) to more adventurous applications. In fact, we're not sure why it isn't bottled and sold as its own entity. (We sense a business venture coming on.)
Here are our favorite 15 ways to use the salty brine:
1. Just re-use it! You can brine hard-boiled eggs, onions, garlic, or any other soft veggies (soft canned vegetables work well too, like canned artichokes).
2. Pickle juice is a great meat tenderizer.  Use it as a marinade for pork chops or steak.
3. Boiled potatoes can be a snore. Make them less boring by adding a healthy amount of pickle juice to the water–it will give those taters a vinegary zing. (We add it to our potato salads, too.)
4. If store-bought barbecue sauce doesn't do it for you, liven it up by adding pickle juice to taste by the tablespoonful.
5. Macaroni and cheese is re-born with a dash of pickle juice. Try it in your favorite recipe, or make this Pimiento Mac and Cheese.
6. Use it in place of vinegar in gazpacho (or anything, really).
7. If your fish or veggies need a lift, drizzle a bit of the brine over them.
8. Put some pucker into your Michelada or Bloody Mary with a tablespoon of pickle juice.
9. Elevate ho-hum hummus to something more punchy with a few dashes of the stuff.
10. An easy and flavorful way to poach fish? Use pickle brine.
11. As if your meatloaf recipe didn't have enough condiments in it already, throw some pickle juice into the mix.
12. We call this "Jewish Deli Bread," since the dough is fortified with a little bit of pickle juice.
13. Make a "pickleback," essentially a shot of pickle brine designed to follow a shot of (usually) not-so top shelf whiskey. The flavors are surprisingly simpatico, which explains why you'll find the pickleback offered at many hipster and  non-hipster drinking establishments.
14. Don't want to consume it? Copper pans are a you-know-what to clean, but you can make them sparkle by cleaning them with pickle juice.
15. Weeds are a bummer, so banish them from your garden by dousing them with pickle juice. All that vinegar and salt does a job on them.
Grilled Pork Rib Chops with Fresh Herb Rub
1 Tbs. chopped garlic
   1 Tbs. crushed fennel seeds
   1 Tbs. finely chopped fresh sage
   1 Tbs. finely chopped fresh rosemary
   2 tsp. coarse salt
   2 tsp. coarsely ground black pepper
   4 bone-in pork rib chops, 3/4 to 1 inch thick (2-1/2 to 3 lb.total), brined if you like
In a small food processor, combine the garlic, fennel seeds, sage, rosemary, salt, and pepper. Pulse several times to blend well. Lightly coat each chop on both sides with the herb rub.
Build and light a charcoal fire so there are thicker and thinner layers of coals for areas of varying heat. For a gas grill, set one side to medium high and the other side to low.
When the thicker area of coals is medium hot (you'll be able to hold your hand just above the grate for about 2 seconds), set the chops directly over them, or over the medium-high area on a gas grill. If flare-ups occur, move the chops momentarily to a cooler area. Sear the chops over the hotter area for about 1-1/2 minutes per side and then use tongs to move them to the area that's less hot. Cover the grill and continue cooking until the chops are firm and their internal temperature reaches 145° to 150°F, another 3 to 4 minutes per side.
Transfer the chops to a clean platter and let them rest for 5 minutes so the juices redistribute and the chops finish cooking.
Vanilla-Roasted Rhubarb and Strawberries
Serves 4
4 rhubarb stalks (about 1 pound), trimmed, cut on a sharp diagonal into 2-inch pieces
12 large strawberries (about 1/2 pound), hulled and halved
1/4 cup bourbon or water
1/4 cup sugar
1 4-inch piece of vanilla bean, split lengthwise
Greek yogurt, honey, chopped pistachios
Combine rhubarb, strawberries, bourbon, and sugar in a medium bowl. Scrape in seeds from vanilla bean. Cut bean into 4 pieces and add to bowl; stir mixture until sugar begins to dissolve.
Place four 16×12″ sheets of parchment paper, or heavy-duty foil if grilling, on a work surface. Divide mixture evenly among sheets, arranging on one side of each sheet. Fold parchment over mixture and crimp edges tightly to form a sealed packet. DO AHEAD: Foil packets can be made 4 hours ahead; parchment packets should not be made ahead. Chill. Let stand at room temperature for 15 minutes before continuing.
Preheat oven to 425°. Place packets on a small rimmed baking sheet. Alternatively, build a medium fire in a charcoal grill, or heat a gas grill to medium-high. Bake or grill packets until rhubarb is tender but not mushy (carefully open 1 packet to check; steam will escape), 10–12 minutes for thinner rhubarb, 14–16 minutes for thicker.
Carefully cut open packets. Transfer mixture to bowls. Top with yogurt, honey, and pistachios.
 Martha Stewart's Rhubarb and Strawberry Sangria
Serves 8
1/4 cup sugar
1/2 cup water
2 rhubarb stalks, cut into 1/2-inch pieces
1/2 cup fresh orange juice (from 1 orange)
1 orange, halved and cut into 1/4-inch slices
1 pint strawberries, hulled and quartered
4 cups (32 ounces) chilled seltzer
1 bottle (750 ml) chilled sparkling wine, such as Champagne or Prosecco
Ice
In a small saucepan, combine sugar and water. Bring to a boil, add rhubarb. Transfer mixture to a medium heatproof bowl and let cool to room temperature, about 30 minutes.
Meanwhile, in a pitcher or large bowl, combine orange juice, orange, and strawberries. To serve, add cooled rhubarb mixture, seltzer, sparkling wine, and ice.
Spring Onion and Pea Soup with Ramp Crostino
Serves 4
2 tablespoons extra-virgin olive oil
2 medium shallots, finely chopped
2 bunches spring onions or scallions, chopped, white and green parts separated
2 cups Basic Vegetable Stock
2 cups fresh shelled peas
Coarse salt and freshly ground pepper
Ramp Crostino
12 fresh mint leaves, thinly sliced
Heat olive oil in a medium heavy-bottomed saucepan over medium heat. Add shallots and onion or scallion whites until soft and translucent, about 3 minutes. Add stock, onion or scallion greens, and peas; season with salt and pepper.
Increase heat to medium-high and bring to a boil; immediately reduce heat to a simmer, cover, and simmer until peas are tender, about 6 minutes.
Working in batches, transfer soup to the jar of a blender or bowl of a food processor; carefully blend until pureed. Strain soup through a fine mesh sieve set over saucepan; season with salt and pepper.
Divide soup evenly between 4 bowls. Place 1 crostino in each bowl and garnish with mint; serve immediately.
Risotto with Spring Carrots and Leeks
About 7 cups well seasoned chicken or vegetable stock
2 tablespoons extra virgin olive oil
3/4 pound tender spring carrots, peeled and thinly sliced on the diagonal*
2 large leeks, white and light green parts only, cut in half lengthwise, rinsed thoroughly and chopped
Salt, preferably kosher salt, to taste
1 1/2 cups arborio or carnaroli rice
2 teaspoons fresh thyme leaves
2 garlic cloves, minced
1/2 cup dry white wine, such as pinot grigio or sauvignon blanc
2 to 3 tablespoons chopped fresh parsley, or a combination of parsley, tarragon and marjoram or chives
Freshly ground pepper to taste
1 to 2 teaspoons fresh lemon juice
1/4 to 1/2 cup freshly grated Parmesan cheese
*If your carrots are fat at one end, cut the fat end in half lengthwise, then slice so that the pieces will be more uniform.
1. Pour your stock or broth into a saucepan, and bring it to a simmer over low heat with a ladle nearby or in the pot. Make sure that it is well seasoned.
2. Heat the oil in a wide, heavy skillet or saucepan over medium heat, and add the carrots, leeks and 1/2 teaspoon salt. Cook, stirring, until the vegetables begin to soften, about three minutes. Add the rice, thyme and garlic. Cook, stirring, until the grains of rice are separate and beginning to crackle.
3. Add the wine, and stir over medium heat until it has almost evaporated. Begin adding the simmering stock, two ladlefuls (about 1/2 cup) at a time. The stock should just cover the rice and should be bubbling, not too slowly nor too quickly. Cook, stirring often, until the liquid is almost absorbed. Add another ladleful or two of the stock, and continue to cook in this fashion — adding more stock when the rice is almost dry, then stirring — for about 20 to 25 minutes. Taste a bit of the rice. It should be chewy but not hard in the middle. (If it is still hard in the middle, add more stock and cook for another five minutes or so.) Stir in the chopped fresh herbs, add pepper to taste, taste and adjust salt.
4. When the rice is cooked al dente, remove the pan from the heat and stir in another ladleful of stock, the Parmesan and lemon juice. The rice should be creamy. Serve right away in wide soup bowls or on plates, spreading the risotto in a thin layer rather than lumping in a mound.
Yield: Serves four to six
Advance preparation: You can begin up to several hours before serving. Proceed with the recipe, cooking halfway through step 3 — that is, for about 15 minutes. The rice should still be hard when you remove it from the heat, and there should be no liquid in the pan. Spread it in an even layer in the pan, and keep it away from the heat until you resume cooking. If the pan is not wide enough for you to spread the rice in a thin layer, then transfer it to a sheet pan. Fifteen to 20 minutes before serving, bring the remaining stock back to a simmer and reheat the rice. Resume cooking as instructed.
Chard, Onion, and Gruyère Panade
Adapted from The Zuni Café Cookbook
1 ½ lbs yellow onions, preferably a sweet variety, thinly sliced
About ½ cup olive oil
6 cloves garlic, slivered
Salt
1 lb red Swiss chard, thick ribs removed, cut into 1-inch-wide ribbons
Water
10 ounces day-old chewy artisan bread, cut into rough 1-inch cubes
2 cups good-quality chicken broth
About 2 loosely packed cups good-quality Swiss gruyère
Preheat the oven to 325 degrees Fahrenheit.
To prepare the onions:
Place the onions in a large, deep saucepan and toss with about ¼ cup olive oil. Set over medium-high heat, and shaking the pan occasionally, cook until the bottom layer of onions is golden on the edges, about 3 minutes. Stir, and repeat. Once the second layer of onions has colored, reduce the heat to low, and stir in the garlic and a few pinches of salt. Let cook, stirring occasionally, another 20 minutes or so.
To prepare the chard:
Place chard in a large sauté pan or skillet, drizzle with olive oil, and sprinkle with water and a few pinches of salt. Set the pan over medium heat until the bottom layer of leaves begins to cook; then reduce the heat and stir and fold the leaves until they are just wilted, 2-4 minutes. The leaves should be bright green and their white veins quite pliable. Set aside.
To prepare the bread:
Using your hands, toss the cubed bread with 2 or 3 Tbs olive oil, ¼ cup of the broth, and a few pinches of salt.
To build the panade:
Using a flameproof 2-quart soufflé dish or deep, enameled cast-iron pan, assemble the panade. Start with a layer of onions, followed by a loose scattering of bread cubes, a thin layer of onions, a blanket of chard, and a handful of cheese. Repeat, continuing until all ingredients are incorporated and the dish is full. Aim for 2 to 3 layers of each component, but make sure that the top is a mixture of all the ingredients.
Bring the remaining 1 ¾ cups broth and 2 cups water to a simmer in a medium saucepan. Pour the warm liquid slowly, over the assembled panade, drizzling it down the sides of the dish. The liquid should come up nearly to the top of the layered ingredients.
Set the dish over low heat on the stovetop, and bring its liquid to a simmer, looking for bubbles around the edges. Cover the top of the dish with parchment paper, then very loosely cover the top again with aluminum foil. Place the panade on a baking sheet to catch drips, slide it into the oven, and bake it about 1 to 1 ½ hours. The top should be pale golden and a bit darker on the edges.
Uncover the panade, raise the oven temperature to 375 degrees Fahrenheit, and leave until for another 10-20 minutes, until the top is golden brown. Remove it from the oven, and serve.
Yield: About 5 main-dish servings, or 6-8 side-dish servings
Lemon Quinoa Salad with Greens, Dill, & Feta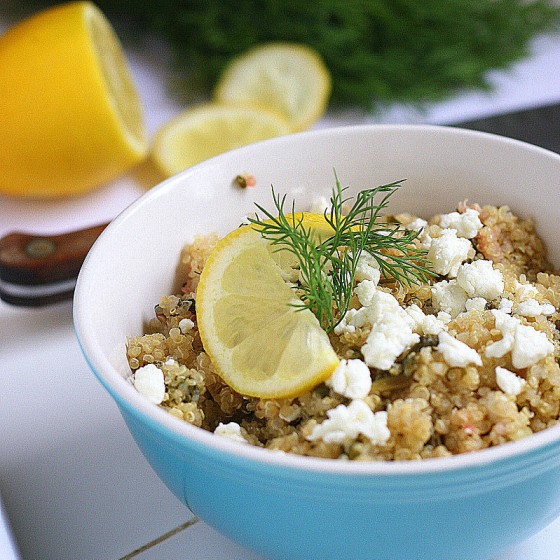 Total Time: about 30 minutes
ingredients:
2 1/4 cups vegetable or chicken broth
1 1/2 cups uncooked quinoa, rinsed
4 T olive oil, divided
4-6 cups chopped fresh greens (spinach, chard, kale)
1 scallion, sliced thinly (white and light green parts only)
1/2 tsp salt, or more to taste
Juice from 1 large lemon (about 3-4 T)
3 T finely chopped fresh dill
1/2 cup feta crumbles
directions:
Bring the broth to boil in a medium saucepan. Stir in quinoa and 1/2 tsp salt. Return to boil, then reduce heat to medium-low, cover, and let it cook for about 20 minutes. Quinoa should be light and fluffy and liquid should be cooked away.
Meanwhile, add 2 T of oil to a large skillet over medium heat. Add greens and onions. Cook, stirring occasionally, until greens have cooked down and onions are tender. (Cook time depends on the type of greens you use. Spinach=5-8 minutes. Chard/Kale=8-10 minutes.) Remove from heat and set aside.
When the quinoa and the greens are both ready, combine both into a large serving bowl. Add remaining 2 T oil, lemon juice, dill, and feta. Toss to combine. Adjust seasonings to suit your taste.
Makes about 4-6 side dish or 2-3 main dish servings.
adapted from Epicurious.com
Roasted Strawberry Buttermilk Cake
makes 1 11-inch cake
recipe adapted from Super Natural Every Day
For the Roasted Strawberries:
8-ounces medium strawberries, hulled
2 tablespoons maple syrup
1 tablespoon olive oil
pinch of salt
2 teaspoons balsamic vinegar
For the Buttermilk Cake:
2 1/2 cups all-purpose flour
1 tablespoon aluminimum-free baking powder (I use Rumford Baking Powder)
1/2 cup granulated sugar
1/2 teaspoon salt
2 large eggs
1 1/2 cups buttermilk
1/4 cup unsalted butter, melted and slightly cooled
1 teaspoon pure vanilla extract or 1/4 teaspoon pure almond extract
roasted strawberries
3 tablespoons turbinado sugar for topping
To make the strawberries:
Place a rack in the center of the oven and preheat oven to 375 degrees F.
Line a rimmed baking sheet with parchment paper. Set aside.
Cut each strawberry in half and place in a mixing bowl. In a small bowl, whisk together maple syrup, olive oil, and salt.
Drizzle the mixture over the strawberries and toss until each strawberry is coated. Arrange strawberries in a single layer across prepared baking sheet.
Roast strawberries for 40 minutes. The juices will thicken, but remove the strawberries from the oven before the juices begin to burn. Remove the berries and juice from the pan while still warm. Place in a small bowl, stir in balsamic vinegar, and set aside.
To make the cake:
Place a rack in the center of the oven and heat oven to 400 degrees.
Butter an 11-inch cast iron skillet.
In a medium bowl, whisk together flour, baking powder, salt and sugar. Set aside.
In a small bowl, whisk together buttermilk, eggs, and butter. Whisk in the vanilla or almond extract.
Add the buttermilk mixture all at once to the dry ingredients.
Stir until just combined and no lumps remain.
Spoon batter into the prepared pan.
Top batter with half of the roasted strawberries and juice.
Sprinkle generously with turbinado sugar.
Bake for 20-25 minutes, or until a skewer inserted in the center of the cake comes out clean. Allow cake to cool to room temperature before slicing to serve. Serve with the remaining roasted strawberries.
Beautiful green globes of artichokes can be found in the markets. These make for a simple, delicious main or side dish. Give it a try this week
Serves 6
1/2-3/4 lb. Italian pork sausage, casing removed
1 1/2 c. Italian breadcrumbs
1/2 c. finely-grated Parmigiano-Reggiano
3 cloves garlic, minced
1/4 c. fresh flat-leaf Italian parsley, finely-chopped
2 lemons
1 tsp. salt
1/4 tsp. black pepper
1 c. dry white wine
3/4 c. good olive oil
6 medium artichokes (8 to 9 oz each)
Preheat oven to 350 degrees.
Mix together sausage, breadcrumbs, Parmesan, garlic, parsley, and zest of lemon, salt, and pepper. Drizzle with 1/2 c. olive oil and mix again.
Trim the artichokes and remove outer leaves. Separate leaves slightly with your thumbs to pull out purple leaves from center and enough yellow leaves to expose fuzzy choke. Scoop out choke then squeeze some lemon juice into cavity.
Spoon about 4 Tbls. (or more depending on size) of stuffing into cavity of each artichoke. Place artichokes in a deep baking dish and pour wine over the artichokes and about 1/2 c. water into the bottom of the dish. Drizzle artichokes with olive oil and add more salt and pepper. Cover with aluminum foil and cook for about 35 minutes. When bottom is cooked they are done.
Note: Stuffing may be made 1 day ahead and chilled, covered.
Ginger Beef Stir Fry
Introduce a little variety to our plates with this light but flavorful stir fry made with sirloin steak, fresh ginger, red pepper, carrots, broccoli and sweet plum sauce.Piled high on top of fluffy, warm rice and sprinkled with a touch of toasted sesame seeds and salted peanuts, this dinner is welcomed change in routine and a delicious dish to add to your rotation.Ginger Beef Stir Fry
Serves 4
Printable RecipeIngredients
1 teaspoon cornstarch
1/4 cup cold water
1/4 cup plum sauce
1 tablespoon grated fresh ginger
1 tablespoon soy sauce
1/4 teaspoon crushed red pepper flakes
1 pound boneless beef sirloin steak, cut into thin 2-inch strips
1 tablespoon vegetable oil
1 medium sweet red pepper, julienned
1 1/2 cups fresh broccoli florets
2 medium carrots, thinly sliced
4 green onions, chopped
1 teaspoon minced garlic
3 tablespoons salted peanuts, chopped
Hot cooked rice
2 tablespoons sesame seeds, toasted
Directions
In a small bowl, whisk cornstarch and cold water until smooth. Stir in the plum sauce, ginger, soy sauce and pepper flakes; set aside. In a large skillet or wok, stir-fry beef in oil until no longer pink; remove and keep warm.
In the same pan, stir-fry the red pepper, broccoli, carrots, onions and garlic until tender. Return beef to the pan. Whisk the plum sauce mixture; stir into skillet. Cook and stir until slightly thickened. Stir in peanuts. Serve over rice if desired. Sprinkle with sesame seeds.
Enjoy!
Adapted from AllRecipes
Fish Stew With Fennel, Fire Roasted Tomatoes and Garlic
Simplicity is the name of the game when it comes to a fabulous weeknight meal.   Sometimes recipes are much better when the ingredients are fresh but simple.  That couldn't be more true for this divine fish stew!
Serves 4
Ingredients
3 cups Seafood Stock or Fish stock (substitute with 2 cups clam broth and 1 cup water)
1 14 ounce can fire roasted diced tomatoes
4-6 cloves garlic, finely chopped
1 small fennel bulb, thinly sliced and coarsely chopped
8-10 saffron threads
1 cup white wine (optional, you can substitute with additional broth)
Extra virgin olive oil
12-16 ounces halibut or cod, cut into 1 inch cubes
Salt and pepper to taste
4 slices French bread
1 clove garlic, cut in half
Directions
In a medium to large stock pot heat a little olive oil over medium heat.  Saute the fennel until wilted and then add the garlic and saute a few minutes more.
Next add the tomatoes, saffron threads, and white wine.  Bring to a boil and then simmer on low for a minute or two.  Add the fish stock and bring to a boil.  Reduce the heat to low and add the fish.  The fish will cook quickly, about five minutes.  Season with salt and pepper to taste.
While the stew is simmering heat the oven to 400F.  Brush olive oil on both sides of the french bread slices, sprinkle with a little salt and place in the oven to toast.  When the bread is toasted, remove from the oven and rub a halved garlic on each toast.
Place one toast in each of the four soup bowls.  Ladle the stew over the toasts and serve immediately.
Bon Appetit!
Caramel Apple Crisp
PUBLISHED IN GOURMET LIVE 10.05.11
Recipe by Ruth Cousineau, with Food Styling by Paul Grimes
Apple crisp is one of those desserts that will never, ever go out of style. Easier than pie—no pastry dough to make and roll out—it delivers the warm, juicy apple love you yearn for the minute you see piles of the shiny orbs at local farmers' markets. This crisp deftly manages to capture the flavor of candied apples under a nutty, buttery crumble.
Makes 8 servings
Active time: 40 min
Total time: 3 hr (includes cooling to warm)
INGREDIENTS
For the Topping:
1 cup all-purpose flour
6 tablespoons sugar
3/4 stick (6 tablespoons) cold unsalted butter, cut into small pieces
1/4 teaspoon salt
1/2 teaspoon pure vanilla extract
1/8 teaspoon pure almond extract (optional)
1/2 cup sliced almonds
For the Filling:
2/3 cup sugar
1/4 cup unsweetened apple juice
3 tablespoons cold unsalted butter, cut into small pieces
Pinch of salt
4 pounds baking apples such as Golden Delicious, Gala, or Crispin (about 7 large), peeled, cored, and cut into 1-inch-thick slices
EQUIPMENT
2- to 2 1/2-quart shallow baking dish
INSTRUCTIONS
Preheat oven to 375°F with rack in middle. Butter baking dish.
For the Topping:
Pulse together flour, sugar, butter, salt, and extracts in a food processor until some large clumps form.
Set aside 1/4 cup for filling and transfer remaining topping to a bowl. Stir in almonds.
For the Filling:
Cook sugar in a dry 2-quart heavy saucepan over moderate heat, undisturbed, until it begins to melt. Continue to cook, stirring occasionally with a wooden spoon, until sugar is melted into a deep-golden caramel.
Remove from heat and carefully add apple juice, butter, and salt (caramel will harden and steam vigorously). Cook over moderately low heat, stirring, until caramel is dissolved.
Put apples in a large bowl and toss with reserved topping mixture and caramel, then spread in baking dish. (Dish will be very full.)
Scatter clumps of topping over apples, squeezing small handfuls of topping into clumps when necessary.
Bake until apples are tender and top is golden and crisp, about 1 hour. Cool to warm or room temperature.
Cook's notes:
Topping can be made 2 days ahead and kept chilled, covered.
Crisp is best eaten the day it is made, but any leftovers can be chilled, covered. The topping will get soggy, but you can rewarm the crisp in a 350°F oven.
Photo: Chris Gentile
Kale & Apple Caesar Salad
(adapted from Marlow & Sons Restaurant in Williamsburg, Brooklyn)
Serves 4
The robust dressing and the sweet apple are a fine match for hearty kale. And unlike
a traditional Caesar that should be eaten as soon as it's dressed, the texture of the
greens in this version will hold up well for a good while.
* 4 ounces good crusty olive bread (or any crusty loaf from Bread Alone)
* 1/4 cup extra virgin olive oil – (Kontoulis Olive Oil is here this week!)
* — Kosher salt
* 1 small bunch (1/2 pound) lacinato kale (regular kale will do, but make sure you
make your ribbons extra thin – Madura will have plenty this week) and that the kale
sits in the dressing for a little while longer
* 1 small pink lady apple (or a Gala apple from Concklin's)
* 1 small clove garlic, minced
* 3 small anchovies, minced
* 1 tablespoon red wine vinegar
* 1 tablespoon Meyer lemon juice (regular lemon works, too)
* — Zest from 1/2 Meyer lemon
* — Black pepper
* 1 egg yolk
* 3 tablespoons freshly grated Parmesan cheese
Instructions: Preheat the oven to 400°.
Cut the bread into 1/2-inch cubes. Toss in a bowl with 1 tablespoon of the olive oil
and a pinch of salt. Spread on a baking sheet and bake until lightly browned, about
10 minutes.
Wash the kale, remove the stems and cut crosswise into thin ribbons . Put in a large
bowl. Remove the core from the apple, quarter and cut into thin slices. Add to the
kale.
In a medium bowl whisk together the garlic, anchovy, vinegar, lemon juice, lemon
zest, a pinch of salt and a few grinds of black pepper. Whisk in remainder of the olive
oil followed by the egg yolk and 1 tablespoon of the Parmesan cheese.
Drizzle the dressing over the salad and toss. Mix the croutons in the bowl with the
remaining dressing and add to the salad. Sprinkle with the remaining Parmesan,
toss and serve in a shallow bowl or on a platter.
Ginger Peach Pandowdy
from Loulies's.com
End-of-summer dessert made super easy. With our local peaches still pouring into market, we want to take advantage to eat them as much as we can until the season is truly over. This pandowdy recipe calls for store-bought pie pastry and for leaving the fruit's skins on – both of these steps freeing up time you can spend with your friends and family. Note: Also, consider adding a pint of fresh blackberries and reducing the number of peaches to half, since blackberries have a long season that can often extend into late September.
Serves 6-8
8 peaches, pitted (about 4 lbs.), washed and sliced into 10-12 pieces
1/2 c. sugar
1 lg. lemon, juiced
1 Tbls. unsalted butter
1 disk store-bought pie pastry
2 Tbls. cornstarch
2 Tbls. chopped candied ginger
1/2 tsp. ground ginger
1/2 tsp. fine Kosher or sea salt
Place peach slices, sugar and lemon juice in a bowl and gently toss until evenly coated. Set aside for 15-30 minutes to draw out some of the juices.
Preheat oven to 425 degrees. Butter a 9-in. deep-dish pie pan.
Roll out pie pastry to make sure that it is the same or even a little bit larger than pie pan. Cut off any excess pastry dough by placing pie pan upside-down over pastry, using it to cut the pastry to size.
In a small bowl, rub cornstarch, candied ginger, ground ginger and salt together.
Strain peach juice into a small saucepan and cook over a medium heat until the quantity is reduced by half.
Add cornstarch mix and reduced juice to peaches (add blackberries now, if using) and stir gently until evenly combined. Pour into prepared pan and top with pastry circle. If the crust's a little too big for the pan, tuck it inside (like you're making the bed). Place on a baking sheet (to collect drips) and bake for 50 minutes, or until crust is golden brown and the fruit is bubbling. Cool for 1 hour before serving. Top with a scoop of vanilla ice cream.
Fresh Pea and Radish Salad
Serves 4
3/4 lb of peas in the pod or 1-2 c. fresh peas
1 bunch of radishes
1 shallot, minced
1 tsp. whole-grain Dijon mustard
½ tblsp. extra virgin olive oil
1 tsp. white wine vinegar
Salt and freshly ground black pepper
Remove peas from pods. Bring a small pot of water to a boil. Add peas and cook until just tender, about 1-2 minutes. Drain peas and run under cold water.
Slice radishes very thinly. Place in a salad bowl with peas.
In a separate bowl make the dressing. Add shallot, mustard, olive oil, vinegar, a pinch of salt and freshly ground black pepper and whisk to combine. Pour over salad and toss.
Spring Asparagus Risotto
Serves 2
3 cups vegetable broth
1 medium onion
1 garlic clove
6 teaspoons unsalted butter
1/4 teaspoon salt
1/8 teaspoon ground white pepper
3/4 cups arborio rice
1/2 cup dry white wine
1/2 pound asparagus
1 teaspoon olive oil
2 teaspoons finely chopped flat leaf parsley
2 teaspoons finely grated lemon zest
1 teaspoon freshly squeezed lemon juice
1 tablespoon finely grated Parmigiano cheese
Put the vegetable broth in a small saucepan and bring it to a boil. Turn the heat down low.
Peel and finely chop the onion. Peel and mince the garlic. Melt 4 teaspoons of the butter in a medium-sized saucepan. Add the onion, salt, and pepper, and cook for 3-4 minutes, add the garlic and cook for another 2 minutes.
Add the rice and cook for 2-3 minutes, coating the grains with butter. Add the wine and cook until almost all the wine is absorbed, about 2 minutes.
Add ½ cup of the hot vegetable broth and cook, stirring occasionally, until almost all of the broth has been absorbed –. Continue adding in broth until the risotto is slightly al dente. [Note: you may not need to use all of the broth.]
While the risotto is cooking, prepare the asparagus. Remove the tough ends of the asparagus and discard them. Cut the stalks into 1" pieces Blanche in boiling water for 2 minutes. Transfer the asparagus to a plate.
Combine the lemon zest and parsley in a small bowl and set the mixture aside.
When the risotto is done, remove the pot from the heat and add the remaining 2 teaspoons of butter. Stir well until the butter is melted and evenly distributed. Add the asparagus, and lemon juice and stir to combine.
Divide the risotto evenly among two plates. Top each plate with half of the grated cheese and half of the parsley-lemon mixture.
Serve immediately.
Strawberry-Rhubarb Crumble (6-8 servings)
Topping:
1 1/3 cup flour
1 tsp baking powder
6 tbsp sugar
Zest of 1 Lemon (save juice for filling)
1 (4oz) stick melted butter
Filling:
1 quart fresh strawberries, washed, hulled and cut in half
1 ½ cups fresh rhubarb, cut into 1 inch pieces
Juice of 1 Lemon
½ cup sugar
3 tbsp cornstarch
Pinch of salt
1. Heat oven to 375°F.
2. Prepare topping: In a larg bowl, combine flour, baking powder, sugar and lemon zest and add the melted butter. Mix until small and large clumps form. Refrigerate until needed.
3. Prepare filling: Toss rhubarb, strawberries, lemon juice, sugar, cornstarch and a pinch of salt in a 9-inch deep-dish pie plate.
4. Cover fruit evenly with topping. Place pie plate on a foil-lined baking sheet, and bake until crumble topping is golden brown in places and fruit is bubbling beneath, about 40 to 50 minutes.