Risotto with Spring Carrots and Leeks
About 7 cups well seasoned chicken or vegetable stock
2 tablespoons extra virgin olive oil
3/4 pound tender spring carrots, peeled and thinly sliced on the diagonal*
2 large leeks, white and light green parts only, cut in half lengthwise, rinsed thoroughly and chopped
Salt, preferably kosher salt, to taste
1 1/2 cups arborio or carnaroli rice
2 teaspoons fresh thyme leaves
2 garlic cloves, minced
1/2 cup dry white wine, such as pinot grigio or sauvignon blanc
2 to 3 tablespoons chopped fresh parsley, or a combination of parsley, tarragon and marjoram or chives
Freshly ground pepper to taste
1 to 2 teaspoons fresh lemon juice
1/4 to 1/2 cup freshly grated Parmesan cheese
*If your carrots are fat at one end, cut the fat end in half lengthwise, then slice so that the pieces will be more uniform.
1. Pour your stock or broth into a saucepan, and bring it to a simmer over low heat with a ladle nearby or in the pot. Make sure that it is well seasoned.
2. Heat the oil in a wide, heavy skillet or saucepan over medium heat, and add the carrots, leeks and 1/2 teaspoon salt. Cook, stirring, until the vegetables begin to soften, about three minutes. Add the rice, thyme and garlic. Cook, stirring, until the grains of rice are separate and beginning to crackle.
3. Add the wine, and stir over medium heat until it has almost evaporated. Begin adding the simmering stock, two ladlefuls (about 1/2 cup) at a time. The stock should just cover the rice and should be bubbling, not too slowly nor too quickly. Cook, stirring often, until the liquid is almost absorbed. Add another ladleful or two of the stock, and continue to cook in this fashion — adding more stock when the rice is almost dry, then stirring — for about 20 to 25 minutes. Taste a bit of the rice. It should be chewy but not hard in the middle. (If it is still hard in the middle, add more stock and cook for another five minutes or so.) Stir in the chopped fresh herbs, add pepper to taste, taste and adjust salt.
4. When the rice is cooked al dente, remove the pan from the heat and stir in another ladleful of stock, the Parmesan and lemon juice. The rice should be creamy. Serve right away in wide soup bowls or on plates, spreading the risotto in a thin layer rather than lumping in a mound.
Yield: Serves four to six
Advance preparation: You can begin up to several hours before serving. Proceed with the recipe, cooking halfway through step 3 — that is, for about 15 minutes. The rice should still be hard when you remove it from the heat, and there should be no liquid in the pan. Spread it in an even layer in the pan, and keep it away from the heat until you resume cooking. If the pan is not wide enough for you to spread the rice in a thin layer, then transfer it to a sheet pan. Fifteen to 20 minutes before serving, bring the remaining stock back to a simmer and reheat the rice. Resume cooking as instructed.
Chard, Onion, and Gruyère Panade
Adapted from The Zuni Café Cookbook

1 ½ lbs yellow onions, preferably a sweet variety, thinly sliced
About ½ cup olive oil
6 cloves garlic, slivered
Salt
1 lb red Swiss chard, thick ribs removed, cut into 1-inch-wide ribbons
Water
10 ounces day-old chewy artisan bread, cut into rough 1-inch cubes
2 cups good-quality chicken broth
About 2 loosely packed cups good-quality Swiss gruyère
Preheat the oven to 325 degrees Fahrenheit.
To prepare the onions:
Place the onions in a large, deep saucepan and toss with about ¼ cup olive oil. Set over medium-high heat, and shaking the pan occasionally, cook until the bottom layer of onions is golden on the edges, about 3 minutes. Stir, and repeat. Once the second layer of onions has colored, reduce the heat to low, and stir in the garlic and a few pinches of salt. Let cook, stirring occasionally, another 20 minutes or so.
To prepare the chard:
Place chard in a large sauté pan or skillet, drizzle with olive oil, and sprinkle with water and a few pinches of salt. Set the pan over medium heat until the bottom layer of leaves begins to cook; then reduce the heat and stir and fold the leaves until they are just wilted, 2-4 minutes. The leaves should be bright green and their white veins quite pliable. Set aside.
To prepare the bread:
Using your hands, toss the cubed bread with 2 or 3 Tbs olive oil, ¼ cup of the broth, and a few pinches of salt.
To build the panade:
Using a flameproof 2-quart soufflé dish or deep, enameled cast-iron pan, assemble the panade. Start with a layer of onions, followed by a loose scattering of bread cubes, a thin layer of onions, a blanket of chard, and a handful of cheese. Repeat, continuing until all ingredients are incorporated and the dish is full. Aim for 2 to 3 layers of each component, but make sure that the top is a mixture of all the ingredients.
Bring the remaining 1 ¾ cups broth and 2 cups water to a simmer in a medium saucepan. Pour the warm liquid slowly, over the assembled panade, drizzling it down the sides of the dish. The liquid should come up nearly to the top of the layered ingredients.
Set the dish over low heat on the stovetop, and bring its liquid to a simmer, looking for bubbles around the edges. Cover the top of the dish with parchment paper, then very loosely cover the top again with aluminum foil. Place the panade on a baking sheet to catch drips, slide it into the oven, and bake it about 1 to 1 ½ hours. The top should be pale golden and a bit darker on the edges.
Uncover the panade, raise the oven temperature to 375 degrees Fahrenheit, and leave until for another 10-20 minutes, until the top is golden brown. Remove it from the oven, and serve.
Yield: About 5 main-dish servings, or 6-8 side-dish servings
Lemon Quinoa Salad with Greens, Dill, & Feta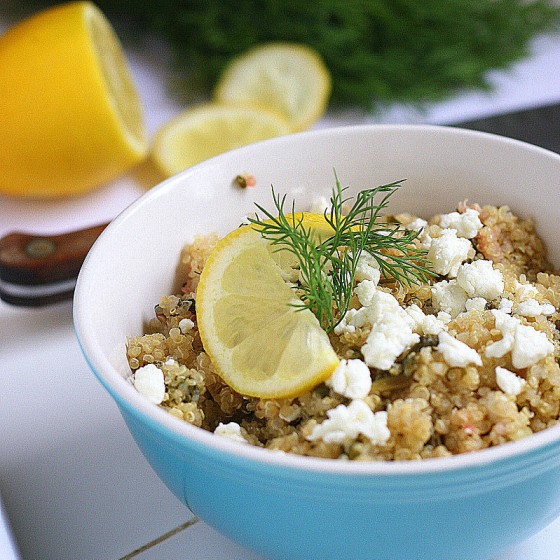 Total Time: about 30 minutes
ingredients:
2 1/4 cups vegetable or chicken broth
1 1/2 cups uncooked quinoa, rinsed
4 T olive oil, divided
4-6 cups chopped fresh greens (spinach, chard, kale)
1 scallion, sliced thinly (white and light green parts only)
1/2 tsp salt, or more to taste
Juice from 1 large lemon (about 3-4 T)
3 T finely chopped fresh dill
1/2 cup feta crumbles
directions:
Bring the broth to boil in a medium saucepan. Stir in quinoa and 1/2 tsp salt. Return to boil, then reduce heat to medium-low, cover, and let it cook for about 20 minutes. Quinoa should be light and fluffy and liquid should be cooked away.
Meanwhile, add 2 T of oil to a large skillet over medium heat. Add greens and onions. Cook, stirring occasionally, until greens have cooked down and onions are tender. (Cook time depends on the type of greens you use. Spinach=5-8 minutes. Chard/Kale=8-10 minutes.) Remove from heat and set aside.
When the quinoa and the greens are both ready, combine both into a large serving bowl. Add remaining 2 T oil, lemon juice, dill, and feta. Toss to combine. Adjust seasonings to suit your taste.
Makes about 4-6 side dish or 2-3 main dish servings.
adapted from Epicurious.com
Roasted Strawberry Buttermilk Cake
makes 1 11-inch cake
recipe adapted from Super Natural Every Day
For the Roasted Strawberries:
8-ounces medium strawberries, hulled
2 tablespoons maple syrup
1 tablespoon olive oil
pinch of salt
2 teaspoons balsamic vinegar
For the Buttermilk Cake:
2 1/2 cups all-purpose flour
1 tablespoon aluminimum-free baking powder (I use Rumford Baking Powder)
1/2 cup granulated sugar
1/2 teaspoon salt
2 large eggs
1 1/2 cups buttermilk
1/4 cup unsalted butter, melted and slightly cooled
1 teaspoon pure vanilla extract or 1/4 teaspoon pure almond extract
roasted strawberries
3 tablespoons turbinado sugar for topping
To make the strawberries:
Place a rack in the center of the oven and preheat oven to 375 degrees F.
Line a rimmed baking sheet with parchment paper. Set aside.
Cut each strawberry in half and place in a mixing bowl. In a small bowl, whisk together maple syrup, olive oil, and salt.
Drizzle the mixture over the strawberries and toss until each strawberry is coated. Arrange strawberries in a single layer across prepared baking sheet.
Roast strawberries for 40 minutes. The juices will thicken, but remove the strawberries from the oven before the juices begin to burn. Remove the berries and juice from the pan while still warm. Place in a small bowl, stir in balsamic vinegar, and set aside.
To make the cake:
Place a rack in the center of the oven and heat oven to 400 degrees.
Butter an 11-inch cast iron skillet.
In a medium bowl, whisk together flour, baking powder, salt and sugar. Set aside.
In a small bowl, whisk together buttermilk, eggs, and butter. Whisk in the vanilla or almond extract.
Add the buttermilk mixture all at once to the dry ingredients.
Stir until just combined and no lumps remain.
Spoon batter into the prepared pan.
Top batter with half of the roasted strawberries and juice.
Sprinkle generously with turbinado sugar.
Bake for 20-25 minutes, or until a skewer inserted in the center of the cake comes out clean. Allow cake to cool to room temperature before slicing to serve. Serve with the remaining roasted strawberries.
Beautiful green globes of artichokes can be found in the markets.  These make for a simple, delicious main or side dish. Give it a try this week.
Serves 6
1/2-3/4 lb. Italian pork sausage, casing removed
1 1/2 c. Italian breadcrumbs
1/2 c. finely-grated Parmigiano-Reggiano
3 cloves garlic, minced
1/4 c. fresh flat-leaf Italian parsley, finely-chopped
2 lemons
1 tsp. salt
1/4 tsp. black pepper
1 c. dry white wine
3/4 c. good olive oil
6 medium artichokes (8 to 9 oz each)
Preheat oven to 350 degrees.
Mix together sausage, breadcrumbs, Parmesan, garlic, parsley, and zest of lemon, salt, and pepper. Drizzle with 1/2 c. olive oil and mix again.
Trim the artichokes and remove outer leaves. Separate leaves slightly with your thumbs to pull out purple leaves from center and enough yellow leaves to expose fuzzy choke. Scoop out choke then squeeze some lemon juice into cavity.
Spoon about 4 Tbls. (or more depending on size) of stuffing into cavity of each artichoke. Place artichokes in a deep baking dish and pour wine over the artichokes and about 1/2 c. water into the bottom of the dish. Drizzle artichokes with olive oil and add more salt and pepper. Cover with aluminum foil and cook for about 35 minutes. When bottom is cooked they are done.
Note: Stuffing may be made 1 day ahead and chilled, covered.
GINGER BEEF STIR FRY
Introduce a little variety to our plates with this light but flavorful stir fry made with sirloin steak, fresh ginger, red pepper, carrots, broccoli and sweet plum sauce.Piled high on top of fluffy, warm rice and sprinkled with a touch of toasted sesame seeds and salted peanuts, this dinner is welcomed change in routine and a delicious dish to add to your rotation.Ginger Beef Stir Fry
Serves 4
Printable Recipe
Ingredients
1 teaspoon cornstarch
1/4 cup cold water
1/4 cup plum sauce
1 tablespoon grated fresh ginger
1 tablespoon soy sauce
1/4 teaspoon crushed red pepper flakes
1 pound boneless beef sirloin steak, cut into thin 2-inch strips
1 tablespoon vegetable oil
1 medium sweet red pepper, julienned
1 1/2 cups fresh broccoli florets
2 medium carrots, thinly sliced
4 green onions, chopped
1 teaspoon minced garlic
3 tablespoons salted peanuts, chopped
Hot cooked rice
2 tablespoons sesame seeds, toasted
Directions
In a small bowl, whisk cornstarch and cold water until smooth. Stir in the plum sauce, ginger, soy sauce and pepper flakes; set aside. In a large skillet or wok, stir-fry beef in oil until no longer pink; remove and keep warm.
In the same pan, stir-fry the red pepper, broccoli, carrots, onions and garlic until tender. Return beef to the pan. Whisk the plum sauce mixture; stir into skillet. Cook and stir until slightly thickened. Stir in peanuts. Serve over rice if desired. Sprinkle with sesame seeds.
Enjoy!
Fish Stew With Fennel, Fire Roasted Tomatoes and Garlic
Simplicity is the name of the game when it comes to a fabulous weeknight meal.   Sometimes recipes are much better when the ingredients are fresh but simple.  That couldn't be more true for this divine fish stew!
Serves 4
Ingredients
3 cups Seafood Stock or Fish stock (substitute with 2 cups clam broth and 1 cup water)
1 14 ounce can fire roasted diced tomatoes
4-6 cloves garlic, finely chopped
1 small fennel bulb, thinly sliced and coarsely chopped
8-10 saffron threads
1 cup white wine (optional, you can substitute with additional broth)
Extra virgin olive oil
12-16 ounces halibut or cod, cut into 1 inch cubes
Salt and pepper to taste
4 slices French bread
1 clove garlic, cut in half
Directions
In a medium to large stock pot heat a little olive oil over medium heat.  Saute the fennel until wilted and then add the garlic and saute a few minutes more.
Next add the tomatoes, saffron threads, and white wine.  Bring to a boil and then simmer on low for a minute or two.  Add the fish stock and bring to a boil.  Reduce the heat to low and add the fish.  The fish will cook quickly, about five minutes.  Season with salt and pepper to taste.
While the stew is simmering heat the oven to 400F.  Brush olive oil on both sides of the french bread slices, sprinkle with a little salt and place in the oven to toast.  When the bread is toasted, remove from the oven and rub a halved garlic on each toast.
Place one toast in each of the four soup bowls.  Ladle the stew over the toasts and serve immediately.
Bon Appetit!
CARAMEL APPLE CRISP
Recipe by Ruth Cousineau, with Food Styling by Paul Grimes
Apple crisp is one of those desserts that will never, ever go out of style. Easier than pie—no pastry dough to make and roll out—it delivers the warm, juicy apple love you yearn for the minute you see piles of the shiny orbs at local farmers' markets. This crisp deftly manages to capture the flavor of candied apples under a nutty, buttery crumble.
Makes 8 servings
Active time: 40 min
Total time: 3 hr (includes cooling to warm)
INGREDIENTS
For the Topping:
1 cup all-purpose flour
6 tablespoons sugar
3/4 stick (6 tablespoons) cold unsalted butter, cut into small pieces
1/4 teaspoon salt
1/2 teaspoon pure vanilla extract
1/8 teaspoon pure almond extract (optional)
1/2 cup sliced almonds
For the Filling:
2/3 cup sugar
1/4 cup unsweetened apple juice
3 tablespoons cold unsalted butter, cut into small pieces
Pinch of salt
4 pounds baking apples such as Golden Delicious, Gala, or Crispin (about 7 large), peeled, cored, and cut into 1-inch-thick slices
EQUIPMENT
2- to 2 1/2-quart shallow baking dish
INSTRUCTIONS
Preheat oven to 375°F with rack in middle. Butter baking dish.
For the Topping:
Pulse together flour, sugar, butter, salt, and extracts in a food processor until some large clumps form.
Set aside 1/4 cup for filling and transfer remaining topping to a bowl. Stir in almonds.
For the Filling:
Cook sugar in a dry 2-quart heavy saucepan over moderate heat, undisturbed, until it begins to melt. Continue to cook, stirring occasionally with a wooden spoon, until sugar is melted into a deep-golden caramel.
Remove from heat and carefully add apple juice, butter, and salt (caramel will harden and steam vigorously). Cook over moderately low heat, stirring, until caramel is dissolved.
Put apples in a large bowl and toss with reserved topping mixture and caramel, then spread in baking dish. (Dish will be very full.)
Scatter clumps of topping over apples, squeezing small handfuls of topping into clumps when necessary.
Bake until apples are tender and top is golden and crisp, about 1 hour. Cool to warm or room temperature.
COOKS' NOTES
Topping can be made 2 days ahead and kept chilled, covered.
Crisp is best eaten the day it is made, but any leftovers can be chilled, covered. The topping will get soggy, but you can rewarm the crisp in a 350°F oven.
Kale & Apple Caesar Salad
(adapted from Marlow & Sons Restaurant in Williamsburg, Brooklyn)
Serves 4
The robust dressing and the sweet apple are a fine match for hearty kale. And unlike
a traditional Caesar that should be eaten as soon as it's dressed, the texture of the
greens in this version will hold up well for a good while.
* 4 ounces good crusty olive bread (or any crusty loaf from Bread Alone)
* 1/4 cup extra virgin olive oil – (Kontoulis Olive Oil is here this week!)
* — Kosher salt
* 1 small bunch (1/2 pound) lacinato kale (regular kale will do, but make sure you
make your ribbons extra thin – Madura will have plenty this week) and that the kale
sits in the dressing for a little while longer
* 1 small pink lady apple (or a Gala apple from Concklin's)
* 1 small clove garlic, minced
* 3 small anchovies, minced
* 1 tablespoon red wine vinegar
* 1 tablespoon Meyer lemon juice (regular lemon works, too)
* — Zest from 1/2 Meyer lemon
* — Black pepper
* 1 egg yolk
* 3 tablespoons freshly grated Parmesan cheese
Instructions: Preheat the oven to 400°. 
Cut the bread into 1/2-inch cubes. Toss in a bowl with 1 tablespoon of the olive oil
and a pinch of salt. Spread on a baking sheet and bake until lightly browned, about
10 minutes.
Wash the kale, remove the stems and cut crosswise into thin ribbons . Put in a large
bowl. Remove the core from the apple, quarter and cut into thin slices. Add to the
kale.
In a medium bowl whisk together the garlic, anchovy, vinegar, lemon juice, lemon
zest, a pinch of salt and a few grinds of black pepper. Whisk in remainder of the olive
oil followed by the egg yolk and 1 tablespoon of the Parmesan cheese.
Drizzle the dressing over the salad and toss. Mix the croutons in the bowl with the
remaining dressing and add to the salad. Sprinkle with the remaining Parmesan,
toss and serve in a shallow bowl or on a platter.
Ginger Peach Pandowdy
End-of-summer dessert made super easy. With our local peaches still pouring into market, we want to take advantage to eat them as much as we can until the season is truly over. This pandowdy recipe calls for store-bought pie pastry and for leaving the fruit's skins on – both of these steps freeing up time you can spend with your friends and family. Note: Also, consider adding a pint of fresh blackberries and reducing the number of peaches to half, since blackberries have a long season that can often extend into late September.
Serves 6-8
8 peaches, pitted (about 4 lbs.), washed and sliced into 10-12 pieces
1/2 c. sugar
1 lg. lemon, juiced
1 Tbls. unsalted butter
1 disk store-bought pie pastry
2 Tbls. cornstarch
2 Tbls. chopped candied ginger
1/2 tsp. ground ginger
1/2 tsp. fine Kosher or sea salt
Place peach slices, sugar and lemon juice in a bowl and gently toss until evenly coated. Set aside for 15-30 minutes to draw out some of the juices.
Preheat oven to 425 degrees. Butter a 9-in. deep-dish pie pan.
Roll out pie pastry to make sure that it is the same or even a little bit larger than pie pan. Cut off any excess pastry dough by placing pie pan upside-down over pastry, using it to cut the pastry to size.
In a small bowl, rub cornstarch, candied ginger, ground ginger and salt together.
Strain peach juice into a small saucepan and cook over a medium heat until the quantity is reduced by half.
Add cornstarch mix and reduced juice to peaches (add blackberries now, if using) and stir gently until evenly combined. Pour into prepared pan and top with pastry circle. If the crust's a little too big for the pan, tuck it inside (like you're making the bed). Place on a baking sheet (to collect drips) and bake for 50 minutes, or until crust is golden brown and the fruit is bubbling. Cool for 1 hour before serving. Top with a scoop of vanilla ice cream.
Fresh Pea and Radish Salad
Serves 4
3/4 lb of peas in the pod or 1-2 c. fresh peas
1 bunch of radishes
1 shallot, minced
1 tsp. whole-grain Dijon mustard
½ tblsp. extra virgin olive oil
1 tsp. white wine vinegar
Salt and freshly ground black pepper
Remove peas from pods. Bring a small pot of water to a boil. Add peas and cook until just tender, about 1-2 minutes. Drain peas and run under cold water.
Slice radishes very thinly. Place in a salad bowl with peas.
In a separate bowl make the dressing. Add shallot, mustard, olive oil, vinegar, a pinch of salt and freshly ground black pepper and whisk to combine. Pour over salad and toss.
Spring Asparagus Risotto
Serves 2
3 cups vegetable broth
6 teaspoons unsalted butter
1/4 teaspoon salt
1/8 teaspoon ground white pepper
3/4 cups arborio rice
1/2 cup dry white wine
1/2 pound asparagus
1 teaspoon olive oil
2 teaspoons finely chopped flat leaf parsley
2 teaspoons finely grated lemon zest
1 teaspoon freshly squeezed lemon juice
1 tablespoon finely grated Parmigiano cheese
Put the vegetable broth in a small saucepan and bring it to a boil. Turn the heat down low.
Peel and finely chop the onion. Peel and mince the garlic. Melt 4 teaspoons of the butter in a medium-sized saucepan. Add the onion, salt, and pepper, and cook for 3-4 minutes, add the garlic and cook for another 2 minutes.
Add the rice and cook for 2-3 minutes, coating the grains with butter. Add the wine and cook until almost all the wine is absorbed, about 2 minutes.
Add ½ cup of the hot vegetable broth and cook, stirring occasionally, until almost all of the broth has been absorbed –. Continue adding in broth until the risotto is slightly al dente. [Note: you may not need to use all of the broth.]
While the risotto is cooking, prepare the asparagus. Remove the tough ends of the asparagus and discard them. Cut the stalks into 1" pieces Blanche in boiling water for 2 minutes. Transfer the asparagus to a plate.
Combine the lemon zest and parsley in a small bowl and set the mixture aside.
When the risotto is done, remove the pot from the heat and add the remaining 2 teaspoons of butter. Stir well until the butter is melted and evenly distributed. Add the asparagus, and lemon juice and stir to combine.
Divide the risotto evenly among two plates. Top each plate with half of the grated cheese and half of the parsley-lemon mixture.
Serve immediately.
Strawberry-Rhubarb Crumble (6-8 servings)
Topping:
1 1/3 cup flour
1 tsp baking powder
6 tbsp sugar
Zest of 1 Lemon (save juice for filling)
1 (4oz) stick melted butter
Filling:
1 quart fresh strawberries, washed, hulled and cut in half
1 ½ cups fresh rhubarb, cut into 1 inch pieces
Juice of 1 Lemon
½ cup sugar
3 tbsp cornstarch
Pinch of salt
1. Heat oven to 375°F.
2. Prepare topping: In a larg bowl, combine flour, baking powder, sugar and lemon zest and add the melted butter. Mix until small and large clumps form. Refrigerate until needed.
3. Prepare filling: Toss rhubarb, strawberries, lemon juice, sugar, cornstarch and a pinch of salt in a 9-inch deep-dish pie plate.
4. Cover fruit evenly with topping. Place pie plate on a foil-lined baking sheet, and bake until crumble topping is golden brown in places and fruit is bubbling beneath, about 40 to 50 minutes.